Male Chastity for Self-Discipline
I had heard of male chastity, of course, but always just assumed that it was something sexually weird that many couples got into for whatever reason. It wasn't until this very thing came into my own life that I had the chance to fully comprehend exactly what it was all about, and oh how surprised I was! In fact, there were many surprises, as I was to later find out, coming my way due to entering the world of chastity.

See the hottest male chastity devices, fetish spandex, male to female transformation suits and extreme mens swimwear here!
Of course, I had heard all about the female chastity belts of Medieval times. These were meant to keep the maidens pure and untouched while their knightly men rode off into battle. However, the topic of male chastity never came up because these men simply took what they wanted to satisfy their needs. As they were sometimes gone for months and even years at a time, it wouldn't be too surprising that women would start to feel a bit frisky at some point. With their belts safely locked in place, however, and the only keys with their men, chances are that they were going to have to simply suffer their urges.
Now there's an entirely new way of viewing the subject of chastity. In fact, it's not so much the women that don strange chastity contraptions anymore. It seems that in more recent times, it is chastity that has become a source of play and fetishism. Men are more apt to find themselves in the role of forced abstinence than women are these days. The surprising part about all of that is just how much men seem to love the entire scene. Many of them seem to embrace this lifestyle with such enthusiasm that it almost boggles the mind.
All of this brings me back to my experience with this particular lifestyle. I never knew that I even NEEDED to be living that way with someone else being in charge of my sexual pleasure. That's the way it all turned out, though. Male chastity became a way of life for me when my partner realized that I simply couldn't seem to control my animal urges. It didn't happen out of not loving my partner because I truly love Jason more than life itself. My problem was that I seemed to feel that random sexual encounters just didn't mean anything other than what they were. I engaged in them for variety and instant gratification. You can probably see where my partner, who IS one hundred percent faithful, by the way, would have an issue with my behavior.
My entrance into the world of chastity came about after one too many little random encounters. I won't go into all of the sordid details except to say that I was caught quite literally with my pants down in a mens room stall with another man that was very enthusiastically servicing me. Jason realized that I had been gone for far too long and had come in search of me. What he found nearly destroyed our relationship. I mean I had to chase him but only made it as far as the parking lot because he was screeching tires all the way out into the road, leaving me standing in a trail of gravel and dust.
I was afraid that he wouldn't be home by the time I had called a cab and arrived there myself. Instead, he was sitting with his laptop looking at some chastity items. Now, I didn't realize what he was looking at when I first walked in, of course, since I couldn't actually see the monitor. Besides, I was just vastly relieved that he was even still there rather than either gone or in the bedroom feverishly packing to leave. I wasn't sure whether or not I should speak to him so I didn't. I figured it would be a much wiser move if I waited for him to say something to me first. After all, I was the one in the proverbial dog house and I deserved to be there. Even if I HAD seen that he was checking out chastity devices, it wouldn't have mattered to me at that point. So I sat down on the couch facing him in the chair he was sitting in and quietly observed him. Oddly enough, he didn't look as furious as he had when he yanked open that mens room stall door.
If I were to describe the look on Jason's face just then as he focused on the monitor of his laptop, I would have to use the word "determined." At that point, I didn't see what he would be so determined about but it made me both curious and nervous at the same time. If I had seen the chastity devices that he was looking at, I would have been much more nervous. But I'm getting ahead of myself, here.
I continued to wait silently until Jason decided to speak to me. When he did, his voice was very calm, even soft to a degree. This was another shock to my system because I had been expecting a full blown screaming match because that's what had always happened in the past when he found out about one of my indiscretions. Instead, this time, he spoke to me quietly without ever once looking at me. That made me even more disconcerted.
Finally, Jason explained to me how male chastity was going to become a way of life if we were to remain together as a couple. He calmly set down the rules of how things were going to go if I was remotely interested in salvaging any sort of relationship with him. It seems that he was quite tired of finding me in all of these compromising situations and getting his feelings hurt constantly. I couldn't blame him so I just listened and hung my head in shame because not only was I very much ashamed of myself for my selfish actions, but I knew that he was right. Also, I did care very much about saving our relationship. So if it took male chastity to do that, then so be it.
At first, I thought that I had jumped the gun a bit too quickly when Jason turned his laptop around and showed me what he had been looking at. He was at a website called koalaswim.com and was looking at various chastity devices meant to keep men from misbehaving sexually. Since I wasn't familiar with the chastity scene, I had to read up on these items. As I did so, it started sinking in just what these devices were meant to do. They were, in essence, made to keep me from getting an erection that would, in turn, aid me in cheating on Jason. Now, I was starting to fear chastity because I still couldn't see how I had done anything so wrong that my sexuality had to be restricted.
Of course, that was the point of it all. These chastity devices simply don't allow a man to have a full erection, let alone be able the engage in a random sexual encounter. Those devices have keys to them and the keys are turned over to the one in charge of the device. In my case, whatever device we ordered from koalaswim.com would have a key that would be taken by Jason as soon as it arrived. That's the only way it was going to work.
As I wanted very much for Jason to stay with me, I agreed to wear a chastity device for as long as he wanted me to. Almost as soon as the words were out of my mouth, Jason was ordering my first device from koalaswim.com. I had a feeling that he probably had it all picked out before I ever walked through the door. In all honestly, this wasn't something that I was looking forward to, but I would do anything for Jason.
That night I was banished to the guest room to sleep and was forced to sleep there until the day that the chastity device arrived. As far as I was concerned, the ONLY good thing about the chastity item arriving was that I was allowed to finally sleep in the master bedroom with Jason once more. That, however, didn't mean that I was able to have sex with him. No, that wasn't going to happen because he put the device on me as soon as I got home from work that day. He had apparently been waiting impatiently for me to get there so that he could get me all locked up.
It was nice that Jason allowed me to take a shower before he put the device on me because I really don't know how I would have managed that first as I knew nothing aboutchastity items. Once I was clean, Jason made me stand before him totally naked while he put the device on my cock. Since I hadn't had sex for several days, I was particularly aroused as Jason touched me to lock me in the cage. However, he paid no attention to it and simply fit the cage on me and locked it up tight. As soon as he got it in place, my erection went down pretty quickly as I felt the pain of the device restraining my raging member.
During the next few weeks, I was put through a learning experience of the kind I had never wished to have with that male chastity device. Jason spent a lot of his time walking around in front of me either dressed provocatively or simply wearing nothing at all. Whenever he did this, my cock would begin to rise in appreciation only to be slammed back down within the constraints of the cage. I was actually getting to the point of begging him to please let me have some release, but he had been so withdrawn through all of this that I decided it wasn't the best idea.
One night, I did get my hopes up, though. I had just taken a shower and walked into the bedroom wearing only my cock cage. The sight that met my eyes had my cock instantly hurting as it pushed against the cage in its quest to become fully erect. Jason was lying back on the bed completely nude, thighs slightly apart, and his hand wrapped firmly around his burgeoning cock. He looked me straight in the eyes and smiled slightly as he started to slowly stroke his member. I started to walk toward the bed, but Jason shook his head and told me to stay where I was. It only took me a second to realize that this was just part of his diabolical plan to teach me a lesson.
This cock cage had started to feel like a part of me in the time I had worn it but it didn't make me feel any better about Jason refusing to have sex with me. It only made me want him more. Watching him pleasuring himself in front of me and not allowing me to touch him was almost too much for me to bear. I wanted to look away but I couldn't. Besides, I doubted that he would allow me to not watch anyway. Instead, I was forced to watch him stroke his cock and then cum all over himself. Afterward, he instructed me to get a towel for him so he could clean up. Then he got under the covers and went to sleep.
I had all but given up hope that even this male chastity thing was going to make Jason forgive me and convince him that I could be faithful only to him when one night everything changed. When I walked in the door after work, the dining table was set, candles were lit all over the place and our favorite CD was playing. Mouthwatering aromas were wafting from the kitchen. Jason appeared in the kitchen doorway smiling and telling me to go get washed up before dinner.
Just as I finished toweling off from my quick shower, Jason walked into the bathroom. From his hand there dangled a gold chain with a small key on the end of it. Holding my breath, I watched as he walked over to me, knelt down and unlocked my male chastity cage. After all this time, I finally knew that Jason and I were going to be ok and I had to admit that it was all due to my chastity cage. It might or might not be brought out from time to time in the future, but it would be only for pleasure.
Wearing Male Chastity Devices for the First Time
Wearing male chastity devices is one of those things that you really have to get used to before you can understand them and how they make you feel. This isn't something that you can just throw on for the day and never wear it again. You have to understand that you need to wear them for long periods of time before you can get the full effect of how they are going to make you feel. Of course, that is a lot easier to say than it is to do for most men.
One of the first things you are going to find out when trying to wear your chastity device is that they tend to dig into places if you haven't made the adjustments on the right way. Now, this can be a bit disconcerting to some men, but all you have to do is readjust them so that the digging stops and you can enjoy the device again. This may require you to take it off completely, so you should be wearing them around your house at first until you are used to them.
Trying to get used to your chastity device while you are out in public is one of those things that you should probably think twice about if you can. There is no rules or anything about wearing them out in public for the first time. However, if you have to make a sudden adjustment and you aren't anywhere near a bathroom or private place that you can do that, then people are going to be looking at you funny. This is one of those things that you have to take into consideration when you decide to wear something like this for the first time.
Now, there are men that have been wearing devices for a very long time, and they will have no problems with strapping one on and heading out the door without even adjusting it. They know what to expect from their devices and how they are going to fit. The first time wearer is going to have a harder time doing something like that simply because they have never worn anything even remotely close to this type of cage. Wearing erotic swimwear and wearing a device from koalaswim.com are two completely different things, if you want to know the truth.
In fact, you have probably never worn anything that comes close to a device like this in your entire life, and most guys are pretty thankful for that. If you are one of these guys that has never worn anything like a cock cage device before, then you will be in for a big surprise when you finally get yours in the mail and see what it involves. You are probably going to be wondering exactly how you are supposed to wear something like this under your clothing as well, but that will come to you later on.
You need to go ahead and try it on first and then you can decide where you are going to wear it and under which clothes. Thankfully, koalaswim.com takes a lot of pride in making their devices work in all kinds of situations, so you shouldn't have too many issues with making them fit under your pants. However, you should probably stay away from things like tight jeans until you get used to the way your device fits as it tends to stick out like a sore thumb for most guys.
Once you are used to wearing your cage, then you can do all your normal daily things like go to work or to the clubs and bars on the weekends. In fact, there really isn't anything you can't do while wearing your device as long as you plan ahead for it. One thing you shouldn't do is try to walk through a metal detector while wearing it unless you are ready to explain to the security personnel why you are wearing a metal cage around your cock. Those conversations can become quite entertaining for both you and the security guy at times, not to mention any strangers standing around that may overhear you.
The good thing is that they only have metal detectors in certain places these days, so you are pretty free as to where you can wear your device from koalaswim.com. If you want to head out to the beach, then you might want to consider either taking it off or finding some swimwear that will allow you to wear it at the same time. Koalaswim.com has a lot of swimwear to choose from. These even include some that go along very well with a chastity cage, if you are interested in things like that.
Some guys would prefer to not go out to the beach while they are wearing their chastity device, so they will take them off for those few hours to be able to enjoy the freedom a bit. Of course, once they get back in from the beach, the first thing they do is put their cage back on and settle back into their normal routine. But what about those guys that don't have the choice in whether they get to take them off or not? How do you think they get to live when someone else is holding the key to their freedom?
You will find that a lot of guys that are wearing male chastity devices these days are doing so because they are slaves to another person and are being forced to wear them. Don't let them fool you, though. They may be slaves to another person, but they are enjoying every single second of wearing that device just like you would be. Of course, it does mean that they have to have permission in order to take their cage off and that never comes easily. They have to earn their freedom and they can only do that by pleasing their Mistress or Master.
If you are being kept by someone and they want to put you in a cock cage device for the first time, then you need to make sure that they are purchasing the right size for you. There is only one thing that can really ruin the aspects of wearing a cage, and that is having one that doesn't fit you properly. Make sure that you know your waist measurements, so that you can be assured that you are getting the right size cage for your body style and not one that is too small or too big for you to wear comfortably.
cock cage device doesn't fit properly no matter what kind of adjustments you are making to it, then you need to send it back for another one. Your Mistress or Master should be able to recognize how important it is for you to at least be comfortable when you are locked up in your cage. This is an item that you are going to be wearing all the time and not something that you are only going to be using for a couple hours every day as an aspect of sexual fun.
Getting whipped or spanked and being tied up is one thing. Being forced to wear a chastity device that doesn't fit properly is beyond ignorant as far as your Mistress or Master is concerned. If they can't tell that it isn't fitting properly, then you should probably be looking for someone else to keep you as a slave and be done with them as quickly as possible. They should know just by looking at your body style which ones would fit you perfectly and which ones would be useless to you while you have them on.
If your male chastity device form koalaswim.com is too big, then it won't be doing anything in the way of keeping you from becoming erect. If it's too big or your cock is too small for it to keep it in place, then what would be the point in actually wearing it? You would still be able to get an erection while wearing it and that defeats the purpose all together. If it is too small, then you will have too much pressure and be in constant pain the entire time you are wearing it which isn't as fun as it might sound to some guys.
You have to be able to do all of your normal daily routines while wearing your device from koalaswim.com, and that means you have to have one that is going to fit you. You don't want to be walking down the street and have your device suddenly take a dive down to your knees while you are still walking. That can become quite dangerous and, if you are wearing pants, it can become quite funny for all those people watching you trying to pull it back up through your pants.
You know what it's like to see someone pick out a wedgie in public? Well, imagine you trying to pick your chastity device up while you are walking through a supermarket or the mall. People are going to notice that something is wrong with just the way that you are walking to begin with. You don't want to give them any more than you have to in that department because a lot of people can be quite cruel in the way they treat others when it comes to wearing items of this nature. Always keep things like that in mind when going out in public.
There are going to be times when you want your device taken off for no other reason than you want to feel free. If you have the key to your device and no one is making you wear it, then you are set. If you are being forced to wear it, then you are probably stuck with it until they say so. Now, that can be a challenging situation for a lot of guys in this lifestyle, but that is the type of situation you have to accept when you put one of these devices on for the first time.
You should know that there are a lot of guys that just decide to wear one for the hell of it. They don't have any other reason to wear a male device form koalaswim.com other than giving something new a try. Once they have it on and they have worn it for a few hours, they will try everything in their power to make themselves get an erection while wearing their cages. Now, that sounds a bit odd to a lot of guys, but you really need to try it at least once to fully understand.
Once you have been wearing your chastity device for a while, you will be trying all kinds of things to see what it is going to feel like. There are even some guys that will wear cock rings before they put on their devices just to see what the mixture is going to feel like. Of course, then you have cock and ball rings that are already built into some of the devices, and those can be quite entertaining as well. It really is a system that you have to play around with for a bit until you find what works for you personally.
No matter what kind of cock cage device system you are looking for, you are going to find it at koalaswim.com. They have enough of this type of item to make any man into this lifestyle very happy, and they do everything they can to make sure that the materials and craftsmanship is of the highest possible quality. You don't want to go out and purchase something that is going to fall apart in a few months of being used, and koalaswim.com doesn't want you to have to go through that, either. You can definitely be relaxed in knowing that the cock cage device options from koalaswim.com are going to last you a very long time, and that is worth everything to any man that loves to wear these items.
Sex Toys for Male Chastity Adventures
I touched his hardened cock and felt him moan tenderly. I was certain he liked what I was doing otherwise he would complain. As a chastity slave, I have known better than to not satisfy my customers because if I don't I wouldn't have money to support myself.
I went down on all fours ang licked his penis and he moaned a little louder this time around. His cock and his cum aren't the first ones I've tasted. I've lost count after I tasted my tenth. His was really no different from the rest but I had to pretend that he was my best. I was a little scared of him because compared to the rest Marcelino rarely smiles.
He is a pretty huge guy, definitely not my type but as a male chastity slave, I cannot afford to choose my clients. I also cannot turn him down because he's one of my biggest income source. He tips me like crazy as long as I promise to give him everything that he needs and wants. At one time I remember he even gave me a thousand dollars because I made sure to eat him cum and swallow it.
I vomited the minute I stepped out of his room. It was bitter, it was sour, it wasn't like the taste of my favorite candy. His cum is warm on and in my mouth and I hear him whimper every time he releases it. Marcelino is sixty years old and even without him telling me his story, I kind of figured that he's broken especially when it comes to his relationship with his family.

Photo of me wearing a new koalaswim.com g-string with built in anal stretcher. Gapping and spread. I deserved it!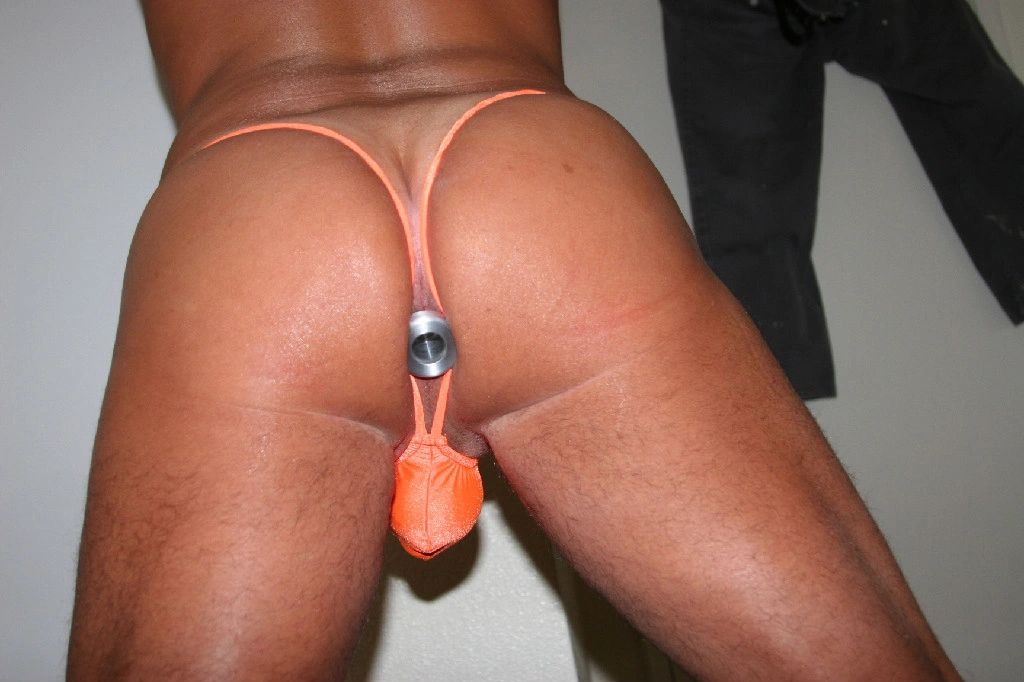 Even without a ring on his finger, I understood that he was once married. He has a picture of two grown children in his wallet and there was one time where a small identification picture of a little boy fell from his bag. I didn't bother pick it up because he looked tensed at the sight of the photograph. He looked me in the eye but didn't say anything but his expression was something I couldn't really explain.
I understood that Marcelino's family has grown distant from me and I wondered whether or not it is because he has become gay. I understand where his family is coming from but I feel more empathy towards him because we are the same at least in this sense. While I was thinking about these thoughts and as they kept rushing into my mind, Marcelino uttered disgust in what I was doing.
He told me that he's not getting what he wants and it seems like I am out of what I am doing and he's probably right. But he didn't know that my thoughts lingered on his life and of course I cannot tell him that.
You see, as a slave, not only can you not choose your clients, you cannot also complain even after exerting too much effort and they still aren't satisfied. I have learned more than enough to not really depend on just an hour of satisfaction because my clients would like to have me for more than just that. And even if Marcelino is the least of my favorite clients, I feel connected to him in a lot of ways.
When he told me that I wasn't satisfying his needs, I pretened to go right back into the zone. I sucked into his dick while masturbating it with my already tired fingers. I touched his cock head and he moaned gently while his toes twitched. After a few minutes of doing this, I felt his body tense and I knew that he was about to release his cum.
Marcelino is one of my few clients who like to prolong the sensation so I know better than to stop for a few minutes while squeezing the head of his dick to help him stop his cum from getting out of his body and into my mouth. It seems to me that he likes it because he motioned me to move away from his penis and to kiss him on the lips. I think I even saw a small smirk on his face and I was quite happy.
As I moved towards him, he asked me to kiss him on the lips and on the neck. His nipples were shrinking because the weather is quite cold. I kissed him, as I would do my other clients and I placed my tongue in his mouth. The kiss was gentle and a little soft and then as his hands motioned faster down his penis, I kissed him with more force and got deeper down his throat.
He wasn't kissing me back as well as I hoped because I knew that he was simply controlling his cum but in just a few seconds I am certain that it can no longer be contained. I waited for him and pretended to close my eyes but I was watching him the whole time. I was looking at this old man who seems very lonely and who doesn't have anybody in his life. It seems to me he doesn't really have any choice anyway.
Almost too quickly, he released his cum, all of it and he motioned me to go down on him to clean him thoroughly. I did as he instructed me to and as I was doing it, I felt how extra warm it was. It was dripping all over my mouth like a living substance that if given the chance can actually move. It was kind of creepy so I had to focus my attention on getting the job done.
And after I was completely done cleaning him, we knew what we're supposed to do next. Without uttering a word, he would shower himself of and I would do as well as if to get rid of the disgust of what just happened. Ironically though tonight, I wasn't disgusted. I wanted to ask him about his life but I was worried he wouldn't like the idea and would simply think that I was intruding in his personal life.
After I was done showering, I saw him laying on his bed with eyes looking very tired, watching the news channel. The weather will be good tomorrow morning the news reporter was saying on the television and as I was fixing myself up, wearing my clothes, I gathered up the courage to finally ask him what I've been meaning to ask him all these months.
Marcelino, I said. He instinctively pulled out cash from his wallet because he thought that I was reminding him of my payment. But I didn't stop and continued my sentece. Marcelino, do you have a family. He didn't look all too surprised at the question and I was thinking that it could be because he also wanted someone to talk to. But instead of answering me deliberately he threw back the same question at me. He asked me if I have a family of my own and I told him that I have but I alreadly live by myself. I don't have a partner nor children and I am doing this kind of male chastity slave job because I need the money to support my studies. Someday, I told him, I want to become a doctor if the world wouldn't be too cruel on people like me.
Marcelino didn't say anything about my story and he simply said, yes, I have a family of my own. I have two children, and one grandson who is turning four early next year. I kind of figured that the pictures on his wallet and the one that fell from his bag are those people he were telling me about at that moment. And then he continued by saying, but I don't see them anymore because I am gay and they couldn't accept it.
Marcelino knew that he couldn't blame his family because for one, it's very difficult to accept that your father is gay and it's very difficult to even explain this to your son. I asked Marcelino where his wife is and he said that he also does not communicate with her anymore because of this situation.
I felt bad for him and found myself sitting on the chair on his study not wanting to leave. I wanted to continue this conversation because I want him to know that someone is willing to listen at least. We talked about the day he told his family about his sexual orientation and he was honest enough to tell me about it.
It was a very fine day and everyone was gathered in the living room watching American Idol. He was around 51 years old at that time and didn't have any grandson yet. He knew the moment he turned 35 that his sexual orientation is questionable but he has already falled in love with Martha and got married to her after three years of being together.
They were blessed with two children who grew up to be successful pilots so they usually travel the world and the couple, Marcelino and Martha are usually the ones left behind in their beautiful home. Their relationship wasn't perfect but it was a quiet, peaceful relationship that made Marcelino want something more. He wanted to experiment and did crazy things while they were still together. Martha on the other hand is the quiet type and likes to avoid confrontation.
On that fine day, Marcelino came home after jogging around the village feeling a little tired than usual. He understood that his age is no joke and he's probably getting weaker and weaker by the minute. He asked Martha for some caring but his wife refused saying that her favorite television show is airing. Marcelino felt shut out so he went out and met Max.
The minute he saw him he knew that he's special. They had a connection you wouldn't really find in anyone else. They were soulmates, they were happy, and even after just that first meeting, Marcelino knew that it was time to admit to his family about what his orientation really is.
He didn't want to get into the details of his admission all he told me was that his family asked him to leave and to just keep the disgrace among himself. He was asked to leave the city and stay somewhere very far and to never come back ever again.
Marcelino and Max moved to Oregon and built their own life there. Their relationship wasn't perfect either but they were always happy. Every time they look at each other, they are always reminded of their decision and they feel very happy about it. But just after two years into their relationship, Max passed away and Marcelino was left all alone in a huge mansion that reminds him of his children.
After Marcelino told me his story, I thought I saw a tear fall down from his eyes. I told him that I kind of figured that he's special and that he's like no one else. My being a slave didn't feel too weird around him. I wasn't feeling any lust towards him anymore rather I felt intense care for this old man. But we both know that it's time to go.
So I picked up my bag and as I was about to open his bedroom door to leave, Marcelino said something to me that I cannot forget to this day. He told me that the most important thing is that I am not ashamed of myself for being gay and that I am happy with what I'm doing. If I'm happy as a male chastity slave, then there's no question with that. But if I am ashamed of what I do, it's about time that I find something more worthwhile.
I walked out of his bedroom not knowing what's on my mind. I was happy and ashamed of myself and my job but is there any other option left for me at the moment? I doubt that.
Don't Fear Male Chastity
So you've heard the term chastity being thrown around on the Internet but you aren't exactly sure what it means. Well, the most basic way to explain it is in having your erections taken completely away from you in a manner that actually causes you a small amount of pain. Now, that may not sound all that great to someone that just found out what chastity is all about, on a very basic level, of course, but to the guys that wear these devices on a regular basis, it is beyond exciting for them.
The biggest thing that makes new guys want to pass on chastity devices is the pain aspect. They think that just wearing one of these devices alone is going to cause constant pain, but that isn't the truth. Unless, of course, you buy one that is too small for you to wear, and then there will be some pain involved if you can get it on. But in reality the only pain you are going to feel is when you have the device on and you start to get an erection. That is going to be the only time that you will have any kind of pain at all, so don't worry so much.
The good news about wearing a male chastity device is that after a bit of time, you won't even have to go through the pain of having an erection while wearing it. You will end up training your body to recognize that you are wearing a device like this and it won't react the same way to sexual stimulation, so there won't be an erection to worry about at all. Now, you don't have the pain aspect to frighten yourself away with and you can move forward with your curiosity.
Another thing that makes some guys not want to pursue this fetish is in the thought that people were going to see them wearing it and know that they have a device on under their pants. Most guys don't mind having a large bulge between their legs, but when it comes to something like a chastity device, they think it will be highly noticeable to everyone that is near them. The funny thing is that the newest designs available are exceptionally low profile and won't show through most kinds of materials, so you are safe from people seeing them.
In this way, all of the scary aspects of wearing fetish items have been taken care of for you. This lets you see that there is no reason whatsoever to be afraid of wearing something like this out in public anymore. Now, you can focus on finding that perfect device that will fit you and your needs like nothing else could. Once you get to that point, you will need to start looking at all of the different styles and designs that are available to you and see which ones start to grab your interest. Then, it's just a matter of weeding them down a bit to that final one.
So, what is it that makes one particular device worth all of this hassle and effort? Which ones are worth looking into further and which ones should you avoid at all costs? The simple answer to that question is that you have to feel it in your soul. Just looking at a device on a website isn't going to be enough to win you over, or at least it shouldn't be enough. You have to get an emotional response from looking at an item like this in order to truly realize whether or not it's going to work for you.
After you have found your favorite male chastity devices and have narrowed them down to the one that you want to wear all you have to do is order it. Waiting for it to arrive in the mail is going to be one of the hardest things you will have to go through. But once it arrives at your home, you will be more than happy to finally get it and put it on. Then, it's just a matter of getting used to wearing something like this for the very first time in your life.
Take your time trying to break your device in properly. You don't want to rush out into public with your device on for the first time, especially when you consider that you have no idea how it's going to feel. You may start walking funny and everyone around you could stare and laugh at you because you are trying to break it in as you are walking. That is no way of handling something like this and you need to be aware of that up front. Wear it around your house for a few hours to see what you can expect from it.
There is nothing else like a good quality male chastity device if you want to enjoy life. All those other fetish items out there that you can wear are only good for a few hours when you are actually using them, but chastity wear can and should be worn as often as possible. You don't have to give up anything in your life in order to wear them and half the fun comes from being able to get by wearing them in public as often as possible.
Why not bring something like that into your life and find a device that is going to make you happy? You don't have to worry about all those imaginary fears that you have built up inside your head. Just try something different and see if you like it or not. You will never know whether or not this is something that you are going to be able to wear if you don't at least try one and they are so reasonably priced that you aren't losing all that much money if you decide later on that it's not something you enjoy. There are plenty of other things that you have already spent more money on that didn't appeal to you, why not try something like this instead?



Male Chastity Games
For the many people on the earth who are not familiar with male chastity, it will come as a surprise that one of the most engaging parts of the entire chastity play is games. These games are geared for both training and discipline. Of course, they are also meant for moments of enjoyment between the submissive male and his dominant whether that is a Master, Mistress, or Key Holder. Games of this type can be formed in any way that the dominant partner wishes. Nothing can be more fun than making up games for the submissives to play that are also training methods. Another nice thing about the games is that they take no time to think of and play.
Typically, it is the dominant partner who comes up with the male chastity games because they know what their submissive needs in order to learn what he must do. The strongest quality that a submissive needs to know is how to immediately obey his dominant instantly and without question. Many games will be built around learning this lesson as many submissives take a little while to comprehend that particular lesson. The games may, at times, be a bit difficult for the submissives but, in the end, the benefits result in being the most important. Once the submissive has this particular requirement down, then the dominant can move onto other teaching games, although they can return to the games that remind the submissive of how to obey without questions.
The male chastity games can be conducted at any time. All it takes is for the dominant to think of a game that she or he would like to play with the submissive. It will happen when it happens. Obviously, the submissive has no say in the matter. His role is to only do what he is told. Once the rules of the game have been explained to him, he must abide by them. Many people will not understand how these games can be a lot of fun but that is the truth. They can have fun while they are learning a new requirement or simply refreshing one that they already have learned.