See the all new Male chastity cock lock style anal plug/cock ring Ass Spark designs in silicone.
These are perect tools for chastity training and can be used in concert with many cock cages. When used together with a cock cage you not only control the use of his penis but you control any possible anal sex actitvity.
See it at this link: Click on the male chastity tab at Mens swimwear


The First Time Chastity User
There is a first time for everything. That is the saying that you will hear from people that have tried something and ended up enjoying it immensely. Whether it is something as simple as a new dish at a restaurant or putting nipple clamps on, there is always a first time for something. That is the way that I looked at male chastity when it came up between my partner and me a few months ago. I have heard about things like this, usually the prospect of medieval maidens that had to wear those chastity belts to keep themselves pure for the arranged marriage. But never thought I would be asked to do the same thing.

Check out our amazing selection of chastity devices, stainless steel anal toys, extreme mens swimwear and fetish spandex wear at Mens swimwear


My partner came in from work and asked me if I had ever thought about wearing a chastity cage. Naturally, I thought it was a big joke and started laughing. That wasn't exactly the response that was desired, but it seemed like the only thing that I could come up with at that time. I thought about it for a few seconds, the glaring heat from my partner's eyes helped me think a bit faster than I normally do in situations like this, and decided I might give the aspect of male chastity a shot.

See amazing new designs at The Male Chastity Store


Welcome to the wonderful world of chastity devices and chastity
products.
Our company Koala offers an awesome range of male chastity devices, cock lock
style plugs and rings and fetish spandex and fem wear. In addition to male
chastity products we offer some amazing stainless steel adult toys geared to men
and anal sex.

Our range of Men's chastity devices and cages include metal chastity cages,
plastic men's chastity cages, silicone chastity cages and our line of
silicone and metal Ass Spark cock locks. For the uninitiated the Ass Spark
models are combination cock rings and anal plugs, when used in combination with
a male chastity device the wearer no longer has the options of sexual
stimulation from the Penis or anal sex since the opening is completely plugged
up. Using a combination of our Ass Spark designs and any of our men's chastity
cages will force the wearer to give up any possible sexual gratification until
his wife, master, husband, girlfriend, boyfriend or who ever holds the keys
allows it to take place.
Using Male Chastity Devices
Plenty of guys out there have wanted to try a chastity device but aren't sure how they would actually fit. This is a fairly common aspect in trying something new out and I was just as curious about them as the next guy. Now, I'm not one to go overboard with fetish stuff or anything, but I was truly curious about what it would be like to force myself to wear a male chastity device. I knew that it was going to be rough for the first few days, but I was willing to try it out anyway.
I went over to koalaswim.com and started browsing through the multiple chastity devices that they have available. I knew it was going to take some time to pick out the right one for me, but I was willing to put in the time. I have to say, though; just looking at the pictures was starting to turn me on a bit as to what I would be expecting with one of these chastity devices from koalaswim.com. I knew that I was about to be getting a special treat for myself by the way they were fitting on the models.
I have to admit that I have never tried anything that resembles one of these male chastity devices before. In fact, I was always a bit scared that I would put one on and never be able to take it off again. But looking at the options that were available at koalaswim.com, I knew that I would be satisfied with whatever I picked out. So I went ahead and ordered one that was sexy. I decided to go with the one they call Deprived. I loved the thought of having leather and studs surrounding my cock and the cage didn't seem to block too much.
A lot of chastity devices end up covering the whole cock and it seems to me that it would be difficult to relieve yourself if you really had to go. The Deprived chastity device from koalaswim.com looked like it would give me plenty of room to do the things I needed to do and would still work the way it was intended. Once it got to my house, I was thrilled to try it on for the first time. I did have a few issues with getting my balls through the leather holes in the chastity device, but once they were in it was easy to wear.
I had few issues with it the first couple of days. A lot of guys have problems with getting erections because of the pressure that a chastity device can cause, but I didn't have that. In fact, it wasn't until three days later that I had any problems with getting an erection inside the cage. Of course, I had a lot of help from a certain someone in getting that erection, so it wasn't the men's chastity devices fault.
I was at a party a few months ago, shortly after purchasing my chastity device from koalaswim.com, and hooked up with someone that I was really interested in. Things went very well with them and we decided to go back to my house for some coffee. Now, everything was going very well up until the point that I felt a hand sliding up my thigh. I knew that I was wearing a male chastity device, but I wasn't sure how they were going to react to it, so I kind of freaked out just a bit.
I jumped up and asked if they wanted something to eat. It was the kind of thing you would see in a comedy romance movie. You know, the bumbling idiot that is introduced to the person he has always had a crush on only to find out they like him as well. Well, that is what was happening in my living room right that very second. I just knew that if they had felt the men's chastity device under my pants they would have though me a pervert and ran for the next county without ever stopping to look back.
I was questioned extensively as to why I suddenly jumped up but couldn't bring myself to tell them immediately why. It took some cunning on their part to finally get me to admit that I was indeed wearing a male chastity device that I had purchased from koalaswim.com, and that I was embarrassed for them to find out, especially since we had just met a few hours earlier. I was definitely embarrassed to tell someone I had just met that I was wearing a chastity device; of course, they thought it was very sexy that I would decide to wear something like that.
I was kind of impressed that this person wanted to see my chastity device, but it did take some convincing on their part to get me to do it. So I dropped my pants and let them see what I was wearing. At first, they were a little bit shocked to see the studded leather of my Deprived chastity device from koalaswim.com. Then, there was a moment of hunger that crept across their face. It was at that time I knew I was going to be in a world of hurt if I couldn't find my key.
If you don't know, men's chastity devices all come with keys that lock the device so that you can't take it off. Now, my key was in the bedroom, in my top drawer of my nightstand. At least, that is where I had thought that I left it a few weeks earlier. Of course, when we got into the bedroom I could no longer find the key. I was a bit disappointed to know that I was not going to be getting this chastity device off, but they had other plans for me, instead.
At this point, I was thrown back onto the bed as they climbed up over the top of me. It was at this point when I felt the warm wet tip of a tongue sliding between the bars of my male chastity device. This is when I knew I was going to be in trouble. I could feel my cock starting to get hard with every brush of their tongue. Then, I could feel the end of the chastity device pushing into the head of my cock. At that point, I felt them open their mouth and take my cock, and chastity device, all the way inside.
I couldn't take the fact that I couldn't get hard nor could I find the key to get out of that cage. I must say that koalaswim.com has definitely got a device that can handle a lot of abuse because that is what was happening to me and my cock at that point. The bars on my chastity device became warm and I could feel how slippery they were becoming in their mouth. I could also feel their tongue pushing through the end of the chastity device and pushing into the hole in the head of my cock.
That was one of the best feelings I have ever felt in my entire life. That was until I felt them suck my balls into their mouth. This was the moment that took me over the edge. The pain that was wracking my body was beyond anything I have ever known since the chastity device was keeping it to a certain length, although my cock wanted to go beyond that length with all of its effort. There was nothing I could do put sit there and take the pain that the chastity was allowing me to have.
The good news is that I did eventually find the key. Somehow, it had gotten into the bathroom and was sitting on the counter. I was relieved to find that key and walk back into the bedroom displaying it like the Olympic torch. When I did this, I noticed that the person I was with was lying on the bed, naked, showing me everything they had to offer and smiling from ear to ear at the sight of the key. I knew that my male chastity device from koalaswim.com was coming off finally, and I was about to have the best sex ever.
They wanted to have the key so that I could sit back and enjoy what was happening to me. They took their time getting the lock off of the chastity device that I was wearing, but never fully took it off. I was able to get just a little bit harder than I was before, which was a relief, but not what I was wanting. You see, this particular device tends to pull on your balls when it is unlocked but not taken off completely. That was even more painful than when it was locked.
It took a bit of time for me to get used to what was happening with the chastity device not being locked, but also not being taken off completely. My cock was aching to get out, in a real physical way, but I knew that when it finally did come off, I was in for something very special. The good thing is that koalaswim.com products can actually hold up to the use that this particular device was being put through. Of course, I was hoping that the straps around my balls would break at some point in time.
There was a lot more foreplay involved now that the key was used on the chastity device. I could feel their tongue sliding up and down my shaft in places that it wasn't able to get to before. The chastity device wasn't covering quite as much of my cock as it was when it was locked, and that allowed their tongue to maneuver between the bars a bit easier. Unfortunately, the constant pulling of the leather straps around my balls put a major damper in getting anything close to relief for me and my cock.
I must take this time to say that I was glad I had passed up the option to purchase the Caged and Cuffed chastity device from koalaswim.com, as I wouldn't have been able to feel the extent to which their tongue would have worked. Once they felt I was being punished enough, I was finally allowed to take the chastity device off and let my cock grow to its full length. There was an audible sigh of relief that came out of me when my full cock was exposed and any pain I had before was taken away with the feeling of a warm wet mouth.
Any guy that has ever had a blow job knows how fantastic it feels. That is a given. But only a guy that has been wearing a device from koalaswim.com like I had could fully appreciate the feeling of a hot mouth wrapped around their cock as much as I did at that moment. It doesn't matter what kind of skill the other person has in regards to sucking your cock, even the feeling of teeth sliding against the head and shaft felt better than being confined in a chastity device like I was.
The sex that night was definitely better than anything else I had ever had the pleasure to experience before. Wearing something as simple as a male chastity device from koalaswim.com even helped me prolong my erection and allowed me better control over ejaculation as well. You just can't say that about other types of fetish wear, and truly have to experience something like this firsthand in order to comprehend it. For any guy that is looking to greatly improve their sex life with a partner, I would highly suggest getting a device from koalaswim.com and wearing it for a couple weeks straight before having a night like I did. Maybe then, you'll be prepared for an impromptu sexual encounter while wearing it. There's a lot to be said about spontaneity as I found out that first night out wearing my chastity device.










Now, there is something that needs to be said about men that choose to wear a chastity cage all day long. Crazy is something that pops up in my mind quite frequently, but that probably isn't the word that most other guys that actually wear them would consider to be nice to use. I am sure that none of them have had the same experience that I have had with my chastity cage, but if they did, then crazy would be the perfect attribute to anyone that would continue to wear them all day, every day.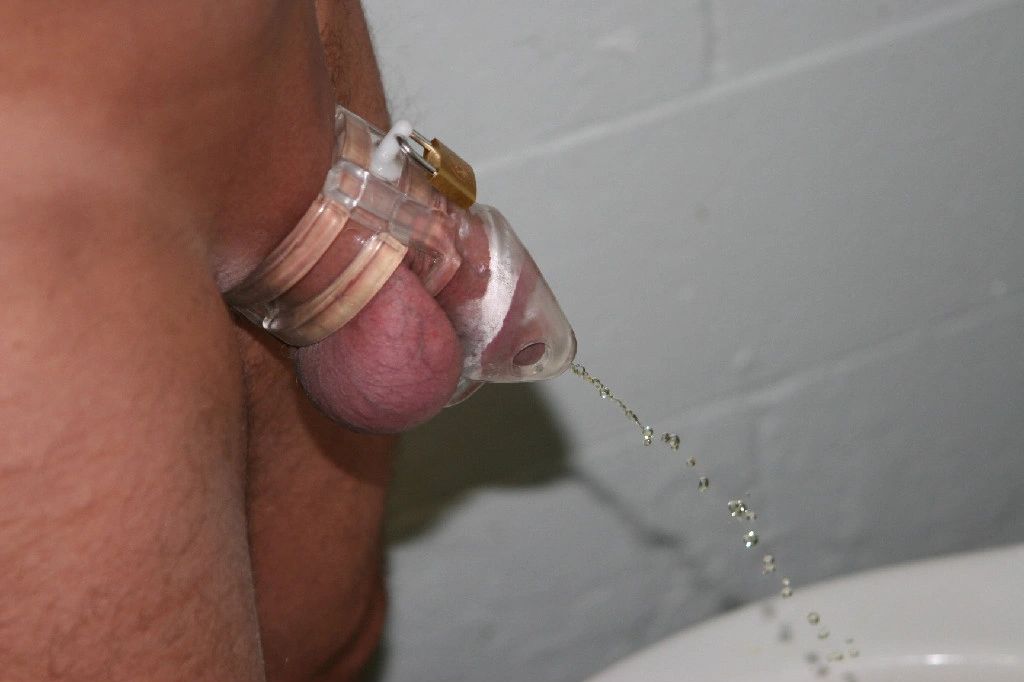 My partner and I decided to head on over to koalaswim.com and see what they had to offer. My frequent jokes about strapping a bird cage onto my hips and possibly buying a muzzle, instead, did not make this virtual adventure very pleasing to the one of us that was taking it seriously. Apparently, there is some seriousness that is involved in wearing male chastity equipment, and I wasn't capable of being mature enough to understand how serious it actually was. That's what I was told, anyway.
Now, I have nothing against having a bit of fun in the bedroom. In fact, I have quite a variety of toys and accessories that are used often enough to spice up our weekends, but wearing a chastity belt all day long seemed a bit odd to me. Not that there is anything wrong with that; I'm as open minded about other guys' fetishes as I am hoping other guys are about mine, but I couldn't grasp the aspect of locking my cock up in a cage for the weekend in order to make sex hotter.
We finally found something that looked halfway decent. This was my first time and I wasn't sure about wearing a leather strap cock ring connected to an anal hook, which would pull on the hook whenever my cock got hard. That seemed like taking chastity to an extreme that I wasn't ready to introduce myself to just yet. Naturally, that was the one my partner thought I would get the most use out of; it seemed my muzzle jokes had pushed the wrong button at some point in time. Thankfully, we found a cage that would be good for a beginner to use, instead.
Now, koalaswim.com is one of those sites that I will definitely go back to when I need something a bit on the erotic side of things. My partner and I both loved browsing through and looking at all the things they have to offer. It's a top notch site that gives its visitors everything they want. Even the more "out there" male chastity apparatuses were displayed in a professional manner and made you want to at least give them a shot before deciding they weren't necessarily something you wanted to wear all the time.
After searching through koalaswim.com for a few hours, we decided on a men's chastity device that wouldn't put me into too much pain and might actually look good at the same time. I wasn't too sure about how I was going to go about my daily routines while wearing it, but that was something I would just have to worry about when it finally got here. Thankfully, I didn't have to wait too long for it to arrive. A few days after ordering the cage and it was sitting in my mailbox, waiting for me to throw myself into a fetish that I had never thought of before.
The piece that we purchased was fairly easy to put on. I found that it doesn't fit as comfortably as I would have liked while still wearing underwear, though. I found it quite amusing walking around the bedroom wearing it over my underwear. My partner, however, did not. Some people really need to have a better sense of humor when it comes to making jokes about elephants with caged trunks. The chastity belt fit snuggly and securely, just the way it should. You don't want anything slipping out while you are walking around with one of these bad boys on; that's for sure.
As soon as I started to get used to the fact that I had to pee through a cage, which makes it almost impossible to shake by the way, my partner decided it was time to see if the thing worked like it was meant to. Now, I normally don't have any issues with my partner walking round the house naked or anything. In fact, I would prefer it over some of the things that are usually worn around the house. But wearing a device at the same time as seeing a naked body was a bit more difficult to live with.
My cock instantly started to make its way up into the atmosphere, only to be suddenly stopped with some force by the cage I was wearing. For anyone that is new to wearing anything chastity related, you should understand that it is almost a form of torture to have a cage like this around your cock. It's one thing to start to get hard while wearing tight jeans. In fact, that can be quite erotic from time to time, but a cage makes it painful.
Having something that pushes back against your growing cock feels good, but doesn't impede the process. Wearing a male chastity cage doesn't have any pushing back until you are just about at full staff. Then, there is no stopping you from becoming as hard as you can actually get without something covering it up. But the chastity apparatus tends to put a metal bar right in your urethra, which is quite uncomfortable; at least mine did and it was for me. Taking that full on erection away at the speed of light is not something that most guys would find amusing.
So, after doubling over from the pain of trying to get an erection for the first time while wearing a men's chastity cage, my partner decided it was working perfectly fine. Clothes were put back on and daily life continued as normal. I did find it a bit odd to try to put my jeans back on over the cage. though. A simple tip for any guy that is looking to pursue this path of fetishism would be to wear pants that are a size bigger in the waist or find a chastity device that hangs down rather than sticks out like mine did.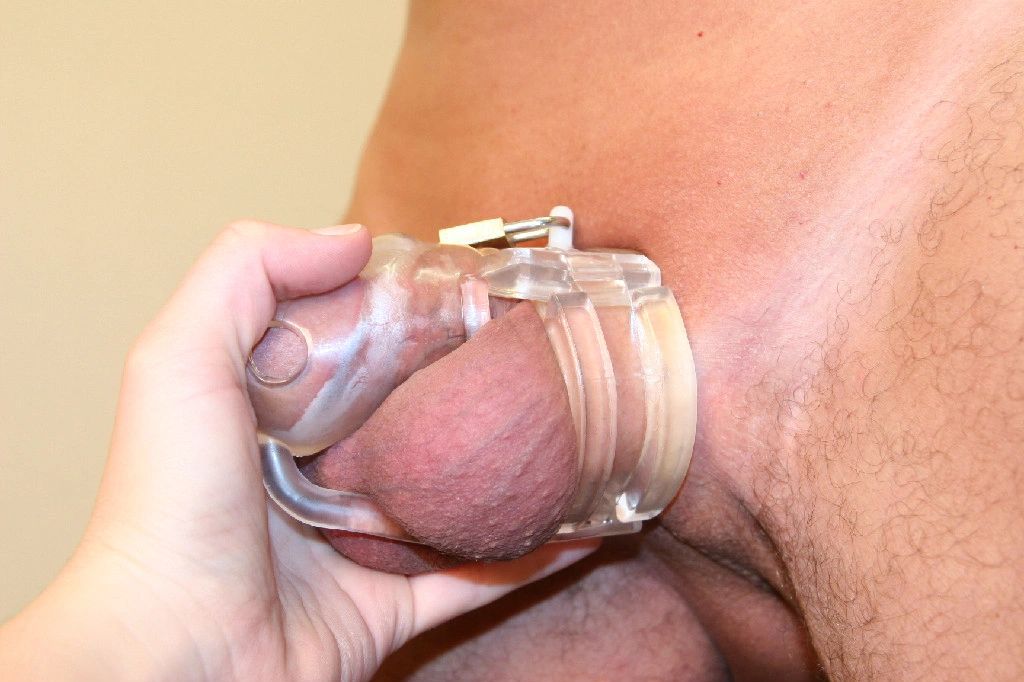 The first few hours of wearing my new male chastity cage around the house were pretty much positive ones. There were few issues with it getting in the way, other than trying to pee without getting urine everywhere. Everything was going well and that is when my partner decided we needed to go out for dinner. Now, I'm all for having someone else cook and bring the food to the table. I'll even pay for that to happen, but wearing a cage while you are in a semi fancy restaurant is something that not every guy can do and still look dignified.
One issue I found was that there were a couple of people in the restaurant that looked pretty hot from where I was sitting. One of them was showing a little more skin that they probably should have been doing; in public anyway, and that caused a slight stirring down below. My partner immediately noticed the reaction I was having to my hardening cock being pushed against the cage that I was wearing. That resulted in getting a kick to my shin from under the table.
Once the pain, and erection, started to fade away, it was time to make that customary trip to the facilities. Now, I am not the kind of guy that normally looks over at the guy standing at the urinal next to me, but apparently the guy that was actually standing next to me WAS that type of guy. That little incident ended up having me in the middle of a conversation about that guy's devices that he had been collecting and wearing for the better part of the last 20 years.
Now, I have no problems starting up conversations with strangers in bathrooms, but that isn't a conversation I was looking forward to having, at any time or any place, for that matter. Some things, like devices, are better off left to the individuals that are wearing them and online forums as far as I am concerned. If you happen to be the guy that was standing next to me, talking about your spiked pouch that you love to wear to the strip clubs, that was way too much information to be sharing with a stranger in the bathroom, sir.
The good thing about the conversation with the gentleman in the restroom is that it allowed me to go the rest of the night without a single incident of penis shock at having the head of my cock split open from the cage I was wearing. Every time I felt the urge to get hard, I just pictured that man standing there in one of his more erotic devices that he had gone into great detail to explain to me. For that image, sir, I thank you, as it saved me a night of embarrassment I really didn't want to go through.
After dinner, my partner and I went home to what I thought was going to be a very exciting night of playful fun, but turned out to be an hour of watching a show of masturbation while all I could do was sit there and wince in pain. I must say, my new friend, the male chastity cage, was definitely living up to its standards that night. There was nothing I could do except sit there and try not to get an erection while my partner laid spread eagle on the bed, naked as all get out, and showed me how much fun could be had without me.
As a form of fore play, this self-masturbatory action would have been a site to behold. As a form of unrelenting torture, wearing a chastity cage while witnessing said masturbation was unreal and slightly humiliating to say the least. This is definitely not something that every guy should be witness to in the respects that I would have been better off tied to the wall instead of allowed to sit on the bed and watch, closely. Just thinking about that night makes my penis wince in reaction.



That first night of wearing my men's chastity cage while sleeping did not go over very well, either. I usually do not sleep on my back at night, but had to because the cage isn't very flexible. I could sleep on my side, but every time I tried to turn over and get more comfortable, the cage would slip to the side and start pinching things that shouldn't be pinched, ever! Once I finally fell asleep, I would end up having dreams about my partner masturbating in front of me, which would cause me to get hard and that, in turn, would cause me to wake up due to the amount of pressure that was building inside my little cage of love.
After spending the next 15 to 20 minutes trying to get relaxed again, I would drift off into pleasant slumber only to have that dream pop back up again and wake me up. Needless to say, I didn't really get all that much sleep the first night. Of course, being awakened by my partner wiggling fingers through my male chastity cage against my cock wasn't the way I wanted to wake up, either. At first, it was a very pleasant surprise, until my cock hit the cage again and I remembered why that was a bad thing to have happen.
The second day of wearing my cage wasn't quite as bad as the first day. I learned to control myself a bit better and even having my partner walk out of the shower, dripping wet and looking hot as hell, didn't get the rise to attention that it would have normally gotten from my cock. It started to, but I remembered instantly what I was wearing and the blood flow slowed to a trickle leaving me semi-hard, instead.
Actually, on that second day I discovered that wearing a chastity cage wasn't all that bad if you didn't let yourself get as hard as you really wanted to. I found that if I could maintain a certain amount of control over my throbbing member and keep it from overtaking that control, then I could enjoy this little aspect a lot more. Of course, learning when to take control of that moment is the hardest thing I have ever had to do in my entire life.
Once I learned what I could and could not do with my cock, wearing the cage wasn't as bad as I had thought it would be. I must say that by the third day I was actually starting to enjoy the little teasing games that my partner and I would play to see if I would get hard again. There was even a moment when I was in the shower and my partner jumped in with me to see what would happen. Sadly, the chastity cage stayed on and very little attention was given to my cock; however, my partner experienced an orgasm unlike anything ever before known to humankind that day.
After having worn my cage for a few more days, I was fully trained to not get hard every time I saw someone naked. In this regards, it was like having a muzzle on since dogs will learn not to bark if they have to wear something like that all the time. Since I was learning how to control my urges, my partner decided that I could have a break from wearing my special cage and enjoy a night without it. That was one of the best nights of my life, too.
Once I was able to take that cage off, I found that my sexual eagerness was gone. I could maintain an erection for hours if I needed to, or wanted to, and I had no issues with premature anything that night. I was able to cum exactly when I wanted to cum and didn't have to feel bad about shooting off early when my partner was nowhere near being ready for me to do that. My male chastity cage allowed me to take full control over my body and enjoy sex like I had never been able to before.
Now, I'm not saying I am one of those guys that can cum when someone looks at my cock. I have been known to last a lot longer than the traditional 8 seconds of a bull ride, but the cage allowed me to focus on other things that made my partner feel special instead of focusing on things that would make me cum faster. It's actually kind of difficult to explain if you have never worn a chastity cage before, but the simplest way to say it is that I didn't have to get hard to enjoy having sex and that means I didn't cum as fast.
Some guys out there are probably thinking I am a sissy and that I should have ripped that male chastity cage off after an hour and fucked my partner silly. Believe me, I wanted to do just that, but I found that my partner was so interested in me wearing it that I really didn't want to rock the apple cart by doing something that childish. I wanted to find out what it would be like to be able to enjoy being with my partner after wearing my cage for a few days and I was not disappointed.
You need to understand that something like this cage needs to be worn for a certain amount of time before you can feel what it's about. You can't just put it on for an hour and expect to get all the emotions that you get when you wear it for days at a time. You need to give it time to settle into you so that you can learn to control yourself while wearing your men's chastity cage. It's not an easy thing to do, but well worth the effort.
If all you are looking for is something that will make sex better for you, then koalswim.com has plenty of things to choose from. However, if you are looking for something that will make the whole sexual experience between you and your partner better, there is nothing better than wearing a chastity cage for a few days. You will start to see, after about the third day, that sex is something to be fully enjoyed by both you and your partner, and the only way to do that is by taking control of your urges.
You don't need any special gels, lotions, pills, or toys to have an exciting time in bed; not when you have a cage that you can wear for a few days. All of that other stuff gets put right out of the back of your mind and has no meaning to you once you are allowed to take your cage off and have some real fun together. You will start to find different ways of pleasing your partner while you are still wearing your chastity cage and that alone is worth going to koalaswim.com and finding one to wear.
I had no choice but to give the key to my men's chastity cage to my partner, OK, I didn't give it away, it was basically taken from me and hidden in the other room so that I couldn't find it even if I wanted to, but it was well worth it. I have never had sex that even came close to equaling what I had after I was unlocked and set free from my chastity cage. You will never understand the full extent of how this device could potentially help your relationship until you get the opportunity to wear one yourself.
Since this introduction to wearing a cage, I have found myself looking around online at forums and websites that go into more detail about the whole aspect of chastity. I have found that a lot of guys that prefer to live their lives like this do so because of the explosive sex they get to have when they are not wearing their devices. I must say that "explosive" doesn't even come close to describing the sex that my partner and I have had since ordering this cage.
Since purchasing that first chastity cage from koalaswim.com I have bought 4 more different ones that offer various aspects to our sexual natures. I have found that it is extremely important to purchase cages that fit you as well. Nothing is worse than buying a cage, getting excited about it being shipped and finding out that it is two sizes too small for me to wear. I tried to wear it, but that cage just made the whole experience painful and I decided to return it for one that was a bit bigger. That one worked out very nicely, but the wait was not something I want to go through a gain.
The anticipation of receiving a new cage is something that is just as intoxicating as actually wearing one. You will find this out once you have worn your first one for a few weeks and decide it is time to purchase a different style of men's chastity device. We have also purchased cock rings and shaft rings to go along with some of my chastity cages from koalswim.com, and they are proving to be well worth the money as well.
The best thing about some of the cock rings is that you can take the cage off and still have sex while wearing the cock rings. Now, that may not interest some of you, but it really interested my partner and the fact that those cock rings wouldn't let me cum made sex even better for both of us that night. Just imagine how many times you can get your partner to cum for you. Now, double that number and multiply it by 10. That is what you will be looking at if you combine your devices with the addition of cock and shaft rings.
The next device that we are looking to purchase combines the traditional male chastity aspect with a stretching unit. Not only will this help me take better control over my urges, but it will make my cock bigger as well. Of course, this isn't going to happen overnight. It will take months of wearing this chastity device in order to see any effects take, but I am more than willing to give it a shot now. I have to work up to wearing something like that, though. I am currently wearing my newest chastity device for the last two weeks and doing very well with it.
Now, before you run over to koalaswim.com and pick out the first device you find, there are a few things that you should take into consideration. The first thing should be whether or not you have worn anything like these devices before. If you haven't, then you will need to start out with something that is easy to put on and take off. You will find that there are moments in your life where wearing a device is probably not very feasible for you.
I had an office meeting with the CEO and board members that would have gone a bit out the door if I would have had to stand up and give my presentation with while wearing my male chastity device. Things like this should be taken into consideration whenever you purchase anything that has to do with a fetish that allows you to be in the public and no one knows about it. I can virtually tell you what any guy is wearing under his clothing just by watching the way he walks due to the way I was walking when wearing my first chastity cage.
Being new to something like this isn't a reason to give up the thought of ever wearing a chastity cage. It just means you need to think a bit more carefully about what you are purchasing. Do some research before jumping into a fetish like this and you should do just fine. In fact, there are plenty of websites that are geared specifically for the chastity fetish and you would be wise to read over some of the information that they have available. It only takes a few minutes to find this information and it will give you a lot to think about.
Koalaswim.com is probably one of the best sites I have ever used to purchase my devices from. Their customer support is far beyond what other so called fetish stores offer, and you are guaranteed that the quality of the devices you are purchasing are of the highest possible. Not to mention that they have some of the best prices available for the chastity guru that is looking for something fun and yet sporty enough to wear all day long; even out in public.
Koalaswim.com takes pride in giving men a new way of enjoying the concept of wearing devices so that other people don't know that they are wearing them under their clothing. Again, this is very important for the first time wearer. Other sites make you wear bulky cages and slings that will let everyone in the room know that you have a men's chastity device attached to your cock so that you can't get hard. That will end up causing people to look at you rather strangely when you get up and walk across the room if you are not careful.
The biggest issue that most guys face when wearing male chastity devices for the first time is in finding ones that fit. As with every guy out there, I, too, thought my cock was too big to put into that tiny little cage. Of course, I was wrong in thinking that purchasing a larger cage would make things easier. The fact is that your straps are only going to adjust so far and then you end up with a large chastity cage bulging unceremoniously out of the front of your pants while the straps keep trying to slip off your waist and thighs.
The object is not to find a cock cage that will fit your cock, but rather a cage that will fit your waist line. The cage is supposed to be small enough to contain your cock and not let it get hard. That is the whole point of wearing a chastity device, after all, and if you get one that is too big, then you defeat the purpose of wearing it at all. Of course, you aren't going to want one that is too small, either. Like I said before, it becomes more painful than you can imagine having your cock pinned into metal bars even when it's not trying to get hard.
Most importantly, for those guys with partners, make sure that you allow them to help you find the cock cage device that works the best for both of you. This is going to bring about an excitement in your partner as well as in yourself and it should be shared between the two of you. My partner was horny every night I wore my cock cage because of the anticipation of what it was going to be like once I took the thing off. Your partner will feel the same way.
There are some things that go very well with a cock cage and there are some things that do not go well with them at all. Lotions and gels do not go well with a cage. You cannot take the cage off in order to clean them off and that means it stays with you until you can take your male chastity cage off completely. This will eventually cause places on the device to wear against your skin and can turn into a rash or sore spot. I learned that the hard way, no pun intended, and found that even showering didn't really help all that much in removing it.
Oh, I should warn you that there is a good chance that your partner, if they are anything like mine, will want you to end up wearing one of those fetish suits, complete with the mask and everything. Now, I had to draw the line there as I tend to get really hot and sweat a lot. But you and your partner might find that a great expansion into the world of sexual fetish play. There are plenty of sites out there that can even cater to both you and your partner, whether your partner is male or female, so that you can both enjoy the aspect of chastity together.
Whatever you decide to do to spice things up in your sex life, wearing a male chastity device has definitely been the best thing for my partner and me. We had never really discussed much in regards to things like fetishes and stuff before, but we are constantly finding new things at koalaswim.com that we would love to try out together. You just have to be willing and open minded enough to give something new a try once in a while. You will find that being able to get yourself involved with men's chastity could be the one thing that ends up turning your sex life completely around. Not only will sex get better for both of you, but your relationship might end up becoming even stronger than it ever was before. So, the next time you and your partner are searching online for something exciting to look at, head over to koaalswim.com and see if there isn't anything on their website that might give the two of you exactly what you need to make your sexual encounters exciting again.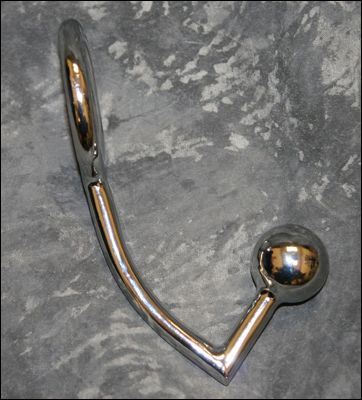 Beginning in Male Chastity Fun
There are a few things in life that can really take you by surprise. I recently had one of those moments when my world turned completely upside down and I found that there are many more things that can bring pleasure to my life than I had ever thought possible. Believe it or not, I am talking about the chastity aspect of sexual gratification. This new technique was kind of forced upon me without my knowledge, but it turned out to be one of the best things that had ever happened in my life.
Now, there have been many times in the past that my partner and I have done some wild things in the bedroom. In fact, there are plenty of moments when we thought we were doing the kinkiest things ever imagined, but the male chastity cage that I woke up with a few months ago turned out to be one of the wildest and kinkiest things we have ever done together. Of course, every story has a beginning and that is what I need to impart to you at this moment. So let's get this story started with how it all began.
A few months ago my partner and I had a house party where we invited all of our friends for some fun. Now, some of our parties can become quite entertaining when our friends come over, and that party was no exception. However, men's chastity had never entered into one of them in the past. We are fairly liberal when it comes to our sex lives, as long as we are both there and the participants are willing, there is no problem. Our friends are all pretty much the same way, and you can guess just how erotic some of our parties can become. With that being said, there was quite a bit of wine flowing at this particular party as well.
Now I don't remember too much about what was going on later in the party, but I know that everyone was having a pretty good time. chastity games could have been going on and I just didn't remember them. By the end of the night, I was extremely tired and worn out from the excess of sexual contact, but I did make it into the bedroom and onto the bed before I passed out. I have no recollection of when my partner made it to bed, but I definitely wasn't alone when I woke up in the morning.
I was still pretty groggy when I got up to stagger my way into the bathroom that morning. I stumbled through the bedroom and closed the door to the bathroom behind me. Obviously, I wasn't thinking about anything to do with chastity; at least not yet. I remember standing at the toilet getting ready to go when I felt something wet on my feet. I rubbed my eyes and looked down to find that I was peeing on my feet instead of in the toilet! Since I have never done that before I wasn't sure what was actually going on. That is when I noticed that I was wearing a male chastity device that I later learned was called the Caged and Cuffed Chastity Cage from koalaswim.com.
I had no idea how I ever got something like this on, and it was pushing my cock down at such an angle that all I could do was pee straight down. Naturally, my first reaction was to scream and yell for my partner to come in and tell me what was going on. I heard a chuckle from the bedroom and knew instantly that this was some kind of practical joke played on me as a punishment for something I had done the night before. Little did I know then just how long this little male chastity joke was going to last.
I burst through the bathroom door and yelled at my partner to tell me what was going on. The response I got was that I had apparently been quite the whore the night before and that I needed to learn my place in this relationship. While I was passed out, my partner had decided to put this cock cage device on my cock for me so that I would now have to ask permission in order to have any kind of sexual contact. Now, I don't mind asking permission, but I felt this was taking things just a bit too far.
My partner had told me that I basically walked around the party with no clothes on, stroking my cock as I talked to people and asking everyone that walked by if they wanted to taste my "lollipop". While that is quite funny to think about, I actually ended up having quite a lot of oral sex given to me that night. I don't remember any of it, but my partner wasn't too thrilled and decided that wearing a cock cage device like the Cuffed and Caged device would keep me from doing that again at our next party.
The next few days of wearing this device was quite awkward. I found that I could get semi-hard but that was about it. My partner naturally took advantage of this condition and did everything possible just to see just how hard I could get before it started to hurt; even waking me up one morning by licking all over the head of my cock. I instantly started to get hard and woke up when I felt the pressure pushing back on my cock. That is not the way I would like to wake up in the morning. The blow job aspect would have been nice, but not while wearing a chastity device.
After a while I found that I was getting used to wearing this little device so the tricks and schemes that my partner was forcing on me wasn't affecting me as much anymore. Of course, that was until our next party. That night was one of the worst of my life. You see, because of the way that I had acted at the last party, I had to walk around with no clothes on again and show everyone at our party that I had this cage on.
At first, people were surprised that I would actually choose to wear something like a men's chastity device. Of course, I had to inform them that this was not my choice and that it was basically forced upon me while I was passed out in bed. That part made a few people laugh and crack some jokes in my direction, but soon people didn't seem to notice it anymore. I was just starting to feel comfortable wearing it around with everyone looking at it when my partner decided that the sex games should begin.
Everyone at the party was split up into pairs, except for me, and was given a card that had a sexual act they had to play out. Male chastity wasn't so much fun when all I could do was sit on the couch and watch as people started acting out everything from kissing to hardcore sexual actions that could make a porn star blush. My device made it extremely difficult to even look at what was going on with any kind of satisfaction; even hearing some of the things that were happening around me made it painful. My cock wanted nothing more than to join in on the fun, but my Cuffed and Caged device from koalaswim.com made that impossible.
You have to understand that I am an extremely sexual man. I live for sex and when I can't get any, it tends to hurt my ego a bit. My partner's decision to put me in a chastity device like the Cuffed and Caged made my ego drop to almost nothing within a few seconds of the party starting. Now, I was being forced to witness all the sexual fun going on around me and I couldn't even jackoff while I watched.
My cock was trying its best to get hard but could only make it so far before the circulation cut off and the pressure became unbearable for me. I'm not sure why my partner decided this was such a good idea for me to sit through; at least not at that point in time and I was slowly starting to get very upset. If wearing a male chastity device was supposed to be punishment for how I had acted at the last party; I could handle that. But this was plain torture of the most heinous kind as far as I was concerned. Or at least I thought it was.
When everyone was finished with their little game, my partner decided everyone should have their turn with me. They were all warmed up and ready to go, but I was locked away like a prisoner in my cock cage device. My partner, however, had thoughts on how I could be used to please everyone, and insisted that if I did not go along with it, I was going to have to wear the Cuffed and Caged device from koalaswim.com for a very long time. I had no other option but to go along with what my partner wanted since I only wanted to be free.
The first thing that I had to endure was everyone licking and sucking on the head of my cock. I was to stand in the corner with a cup, and people from the party would put a quarter in it to spend five minutes playing with me. The men's chastity device made it unbearable to enjoy even a single second of it, but I wanted it off so badly that I stood there and took all the punishment I could handle. Of course, making ten dollars wasn't all that bad, either.
Once everyone had had their turn; some took more than one, by the way; I was made to go around and do the same thing for everyone at the party. I was also supposed to give them back their quarters and spend the same amount of time playing with them like they did with me. I enjoyed this part, except giving the money back, but it was still a bit painful for me since the Cuffed and Caged cock cage device kept my cock in a certain position the whole time. I was really hoping this was the last thing that I was going to be forced to do that night.
Once I was done licking and sucking on every member of the party, I asked my partner if I could have the key. I really wanted to get out of this thing and start having some real fun, but my partner informed me that I was not done with my duties. Then, I was told that I would be bent over a chair and tied so that I couldn't move. I was starting to feel like I was being used so everyone else could have fun and I just had to deal with it at this point.
Wearing the Cuffed and Caged chastity device while getting rammed from behind was a bit different. I am used to the ramming, but there was no way that I could stroke my own cock let alone have the person fucking me do it, and that made things a bit awkward for me. The fact that I was tied to a chair wasn't so bad. We have done that plenty of times in the past. But the chastity cage was keeping me from really enjoying what was happening to me and that wasn't good at all.
I started to feel used, like some kind of sex toy that never got put away. That is when I realized that my punishment for acting like a slut was to be everybody's whore that was at the party. My partner saw the realization on my face and smiled, nodding knowingly, and informed everyone there that I was to be used as they saw fit, but the Cuffed and Caged men's chastity device was never to be touched in any way. Then, the toys came out and I knew instantly what it was like to be the submissive in a strict dominating sexual relationship.
While I wasn't too fond of what was happening at first, I did find that being submissive and wearing this kind of device was actually quite a turn on. While I may be the type of man that will walk around and show everyone what he has to be proud of, being able to put that manly ego aside and be used like I was with the device on me turned out to be rather erotic. I have never done anything like that before and found that the submissive aspect of sex wasn't as bad as I might have thought before.
That night was one of the best parties we have ever had. I was fucked more ways than I ever thought was even humanly possible. There was even a woman there that used her strap on to fuck my ass while her husband forced his cock down my throat. That had never happened to me before, but wearing that Cuffed and Caged device from koalaswim.com made me realize that there was much more to sex than just fucking someone in the kitchen or bedroom. There were nuances that came with different fetishes that even I could enjoy.
To this day, every time my partner pulls out a chastity device, I immediately start to think of all the fun things that are going to be happening to me while I am wearing it. We have quite a few of them now, and all were bought through koalaswim.com, In fact, we even purchased a slave hood to go along with my chastity devices so that everyone at the party knows that I am there specifically to please them. No matter what it is they want from me I am to give it to them without hesitation.
I even spent an hour as a table for two of our friends to fuck on one night. One of them laid on my back with their legs over my shoulders and the other fucked them right over my head. At one point, I was told to tilt my head back so that their balls could slam against my eyes while they were fucking. This male chastity act was a bit different to get used to, but I enjoyed it none the less. I was also told to lick everyone clean when they were done fucking. Every cock and hole that was used had to be spotless.
My partner has forgiven me for being the slut that I was at that first party. I am not required to wear the cock cage device all the time, although I do tend to put one on from time to time just to wear it. I find that it has kept me in line on more than one occasion, and sometimes it's just fun to go to work wearing something like this under my clothing. Some guys may not agree with this lifestyle, but I love every single minute of it now.
Koalaswim.com has had a huge impact in the relationship between my partner and me to say the least. In fact, we have spent hundreds, if not thousands, of dollars purchasing male chastity devices and erotic wear from them over the last few months. There is a huge selection of things to choose from, and my partner and I have spent many hours poring over everything in detail to see what we are going to choose next. If you are ever looking for anything that is erotic, then you should check their site out for sure.
I have found the being submissive is much more exciting than anything I have tried before. My partner loves to take the dominant role now and treats me very well. There have been a few times when we have used men's chastity to try the BDSM side of things and, although it was enjoyable for a while, it wasn't something that we truly felt was needed in our relationship for long periods of time. Passing some time and changing things around made it enjoyable for us, but it's not the kind of thing that we could keep up for any length of time and still be serious about it.
The aspect of wearing a chastity device like the Cuffed and Caged has become a mainstay in our drawer of toys and is used quite often, if for no other reason than it being the first one we used. There have been quite a few parties that have happened in our home since then, and all of our friends love the fact that I wear chastity devices when we have these parties. Of course, I get to take them off after everyone goes home, and my partner and I get to have all the fun we can handle then.
I can say that a lot of these kind of devices from other sites don't have the quality that koalaswim.com offers. We have tried a few from other sites that seemed like they would work out great, but my cock is fairly big and has broken more than its fair share of chastity devices over the last few months. That becomes quite unsettling when it happens, and the loss of money that we put out for them has made us decide that we will only go with items purchased from koalaswim.com and nowhere else online.
If you want to have some fun, unlike anything else you might have tried in your lifetime, then take a look at some of the more erotic items from koalswim.com. You are bound to find something on their site that will give you the pleasure that I have found with their line of cock cage devices. I would highly suggest purchasing the Cuffed and Caged device as your first attempt in the realm of chastity sex play so that you can get the full effect of what you are about to find. There is nothing like having your cock forced to stay out of being erect, and I know that you will have as much fun wearing it as I have had wearing mine over the last few months.
The Benefits of Male Chastity
There are plenty of benefits to male chastity besides the typical fun that it can provide you and your partner. You see, I have a partner that is a bit of a slut at times. It seems that no matter where he is, if there is a hard cock in the vicinity, then he is going to have some fun with it. I have walked in on him more than once with someone else and, no matter what I say about it, he always promises to be better. But I finally got him back.
The best thing about this new silicone chastity cage from koalaswim.com is that you can put it on your partner without them knowing about it. At least I was able to do that and he had no clue what was going on. The Man Whore Silicone Cock Cage seemed just like the attitude adjustment that he needed, so I went ahead and purchased it. Ordering it was the easiest thing in the world and it arrived a few days later in the mail. Of course, the discretion that I got by going through koalswim.com helped out a lot since there was no way he would find out that I had purchased it and it would be a huge surprise.
I waited for him to fall asleep one night and sneaked it on him. I had to be a bit careful with this cock cage, though, as it has the anal spark attachment ring. Trying to get the ring on was a bit more difficult as he wanted to turn over while I was trying to get it set right. After a few very careful minutes, I was able to fasten the lock and know that there was no way he was going to be playing around anymore.
When he first found out what I had done, he was pretty upset. I must say that the argument that arose from that discovery was one of the biggest we had ever had before, but I stood my ground and insisted that the male chastity cage stay on. There are certain things in life that you just have to stand up for and wearing this cage was one of those things for me. I knew he would have a hard time accepting it, but if he didn't know I was putting it on him, he wouldn't be able to take it off. See all the super hot male chastity devices at KoalaThe amazing thing was that right after we left the apartment he was hit on by another guy. He really wanted to go have some fun with this guy, but the chastity cage deterred him a bit. He said it was the most uncomfortable thing in the world to experience because his cock was getting hard, but it could expand at all. This let him know exactly who was in charge of his sexual appetite. He knew that he would have to ask me for the key if he wanted to hook up with anyone and he wasn't too happy about that, either.
Since he was under my control because of the cock cage that I purchased from koalaswim.com, he had to do everything I wanted in order to have the cage taken off. Of course, the cage was only coming off when the two of us were alone and there was no chance that he would be with someone else. I needed him to understand that he was mine and that he wasn't going to be going off whenever he wanted to jkeeping this relationship alive, and I was going to use that to my benefit.
I picked the Man Whore Male Chastity Silicone Cock Cage because it seemed like the best fit for my needs. I knew that he would get hard at the drop of a hat, and I wanted him to remember my name every time his cock started to grow. Once he started to get hard, he would find out that there isn't very much room in that tiny little cage I am making him wear. If you have never had your penis restricted to the point that it couldn't get hard at all, then try one of these cages from koalaswim.com and see how it feels.
After a few months of wearing this particular cage, and doing quite well I might add, I decided to let him out for the night. He was very pleased that I was allowing him to have some freedom, although he didn't quite understand why he was being given such a gift at that point in time. He didn't understand that I had a present for him and I wanted to have his full attention. He was about to find out what that cage was made for.
I took the cage off and told him that I wanted him to see what it was like for me in this relationship. I told him that I had a friend coming over and that the two of us were going to be having sex, but he had to sit in a chair in the other room and couldn't watch. I told him that if he behaved, he wouldn't have to wear the cage for the rest of the night; but if he didn't behave, he was going to have to pay for it.
He wasn't too happy about the thought of me having sex with someone else while he was in the next room, but I informed him that he didn't have a choice in the matter. He was going to find out just who was in charge this night. My friend showed up and I told my partner where he was to sit for the evening. He started to argue a bit, but I brought the key out for the chastity cage and told him that I could go back to koalaswim.com and find something that would fit even tighter than the Man Whore Male Chastity Silicone Cock Cage if he wasn't careful.
Being put in his place is something that I had always wanted to do, but I was never able to get that domineering attitude down without finding it a bit foolish. Tonight, however, was going to be a lot different than anything either one of us had ever expected. The first ten or fifteen minutes went by without any problems. He sat in his chair outside the room without his chastity cage and my friend and I were having some fun in the bedroom.
I told my friend what was going on before he came over so that he knew what his role was going to be. I told him all about finding the cock cage on koalaswim.com and how I had slipped it on my partner while he was asleep, too. He understood that tonight was going to be a major lesson for my partner and was more than happy to help out. We also knew that neither one of us were going to be having sex tonight, at least not until my partner was beyond control and barged into the room.
It only took about an hour before my partner couldn't handle it anymore and entered the room. My friend and I were sitting on the bed, completely naked, and holding each other's cocks in our hands. The look in my partner's eyes was something of a cross between sexual overload and absolute rage. It appeared that the men's chastity cage was doing exactly what I had hoped for. It was making my partner go crazy because he couldn't have any more fun. It may sound a bit cruel to you right now, but the night was about to make a turn for the best.
When my partner walked in, all upset, I decided to make a point. I took out the chastity cage that I had purchased specifically for him from koalaswim.com and told him to put it on. He argued at first and said that he was never going to wear the cage again because of what he was seeing in his bed. Naturally, I laughed and told him that he had to put it on because I controlled him and his cock. After a few minutes of showing him that I wasn't going to back down, he put it on.
Once he had the male chastity cage back on I got up, walked over to him, and locked the cage in place. It took us a bit of time to get it locked simply because he kept trying to get hard. Once the cage was in place, I told him that he had to bring the chair back in and sit down, facing us. He wasn't exactly sure what was going on, but he had finally given up control to me and had to do what he was told.
Sitting in the chair with his koalaswim.com cage on, I then tied his hands behind the chair. Then, I tied his legs to the legs of the chair. In this way, he couldn't get up and walk away while the show was going on. I knew that he ust to get laid. The chastity cage was my only hope of would try to turn his head, but there was no way I could keep him from doing that. Once he was situated for the best possible view, I told my friend that it was time for the party to start. I climbed back on the bed, facing my partner, and took my friend's cock in my hands.
I slowly ran my tongue up and down his hard shaft while I looked into my partners eyes. I could tell that he was upset with me for forcing him to watch what was happening. I could also tell that he was becoming quite uncomfortable in his male chastity cage. Every once in a while, he would grimace a bit as his caged cock would try to grow. Watching him in this situation just made my cock even harder and my friend noticed that. He took my cock in his hand and started stroking it, making it get even harder than before.
I wanted to make sure that my partner was getting a good view, especially since he kept trying to turn his head away. It was like he didn't want to see what I was doing, or having done to me, but deep down inside he wanted to know every detail of what was happening. It was like watching porn for him on some level, except it wasn't on a television or computer and he had a cock cage on. We decided to slide down to the foot of the bed so that we could be right in front of him.
My friend and I were giving each other blow jobs, sucking and licking each other's cocks like crazy, when we decided it was time to play with my partner for a bit. We both got up off the bed and walked up to him. I started rubbing my cock against his shoulder, knowing that it would drive him crazy and make his cock cage become even more confining than before. My friend did the same thing on his other shoulder as well. Then, we both reached out and ran our hands over his chest, playing with his nipples as we did so.
The sexual tension in the room was almost palpable, it was so thick. There was a heavy odor of sex in the air and my partner almost had tears rolling down his cheek because of the strain he was under inside that cock cage from koalaswim.com. Once I felt he could take no more from us, I decided to straddle over his lap and let my friend get on his knees. He sucked my entire cock deep into his throat as I leaned back my head and started to nibble on my partner's ear.
I knew that this little move would drive my partner over the edge of sanity, as it often did, and cause him great pain. He whined about how painful the penis cage was getting and begged me to release him from it. I laughed, the entire time having my cock sucked like never before. I could feel my partner trying his best to adjust his cock while I was sitting on top of it, but to no avail. All he could do was sit there and let this all happen to him, regardless of his feelings on the issue.
I have never been one to do something this torturous to someone I was with, but I have to say that I was highly enjoying this new side of me. I felt that koalaswim.com gave me a new reason to live by offering me a penis cage for my partner, and I wanted to experience even more things with it. My friend has done some BDSM before and had all kinds of great ideas that we could play with, so we did. We did them all right there on my partners lap and laughed at him the entire time.
Teasing someone is something that takes a bit of practice, but my friend taught me quickly how it is supposed to work between a Master and his slave. Because of that koalaswim.com Man Whore Male Chastity Silicone Cock Cage, we made my partner into the bitch that he has always needed to be. He was nothing more than sexual entertainment for the two of us and that is what he needed to understand. His only role in life from that night on was to please me when I deemed in necessary. The good news is that, after three hours, he agreed to it.
Three hours of me and my friend fucking each other on top of him made him finally realize that he was meant to wear a cage and do everything I told him to. There were to be no more playful outings with someone else; he was meant to be my slave and would have to like it. I found a new side of myself that night and realized that being in control gave me the self-confidence to make other things in my life happen as well, and my partner loves every second of it now.
The two of us have a very different relationship going now. He wears his koalaswim.com Man Whore Male Chastity Silicone Cock Cage everywhere he goes, without argument. He understands now that arguing about it will get him locked in the box that is permanently installed in our closet, too. He has had to spend a few nights locked up in it and isn't thrilled when I tell him to get in it. It's quite small, really, and not at all comfortable. I did give him a blanket, though, so he would get cold. OK, it's a towel actually, but he can use it as a blanket if he chooses, or a pillow.
You see, when you decide to put your partner in a
penis cage you have to be prepared to go all the way with it. Sure, it can be fun to just wear a cage and play around for a bit, but there comes a time when taking the control completely away from them is the only thing that will make the relationship last. He understands this, and does my bidding when I tell him to. But we both have a stronger feeling for each other now than we ever did before.
My partner loves his male chastity now and we have gone back to koalaswim.com to purchase a few more items that he gets to wear on a regular basis. I have to say that purchasing that first Man Whore Silicone Cock Cage was the best decision I have ever made in my life, and my partner will likely agree to it with very little prodding or whipping. This is something that you really need to try if you have a partner that likes to show off how sexual he is with every guy that walks by.
If you aren't into the male chastity aspect of sex, then there are a few other items that you might want to try out from koalaswim.com anyway. In fact, we have quite a few of their more erotic swimsuits that we love to put on around the house. We love sitting out by our pool on the weekends and can be seen wearing some of the pouches that koalaswim.com has to offer. Actually, there are only a handful of items that they have that don't fit with the cock cages that we have purchased.
All in all, there are few things in life that have brought me more pleasure than being able to take my partner by the hand and tell him to suck my cock whenever the feeling hits me. I know that he will do a good job, too, as it means he gets to have time out of his penis cage. If you have someone in your life that is willing to give this a try, then, I would definitely say you should go for it as soon as possible. You will be pleased with yourself for it; that's for sure.
Male chastity cages are something that were new to me when I first went to koalaswim.com. I knew that I would like to have one for my partner, mainly to prove a point, but it's turned out to completely revamp our sex life. Sex before was great and everything, but now that he has to wear that cage and actually earn the right to have me let his cock out, the sex has become some of the most erotic and wild I have ever had before. This is due to his constant need to satisfy my every need and hope that I decide he has done enough so that he can unlock his male chastity cage and please me in a whole other way after that.
Experiences with Male Chastity Devices
I have been experimenting with male chastity devices for most of my life now. I was very pleased to find koalaswim.com online so that I could actually purchase some devices that were of high quality rather than what I have been doing to satisfy my needs. You see, I have been trying my own versions of chastity devices for years, and they are nowhere near as good as what you can purchase from a professional online store. I found that no home found items can replace a well-made chastity device.
I started out when I was in high school; trying to find the perfect chastity device that would give me the ability to control when and where I got an erection. Now, it started out with an ace bandage. I would tie it around my waist to keep it hidden from the world. That, of course, did not succeed and was one of the worst chastity devices I have ever come up with. It doesn't keep you from getting an erection, and actually caused my cock to get harder just because of the pressure that was applied to it.
The next thing I had tried was using a jock strap with a cup in it. I tied it on really good to make sure this device would stay in place and keep my cock in check. Unfortunately, it didn't hold as well as I had hoped for and the head of my cock kept poking out of the top of the cup. Needless to say, that chastity device idea was a complete failure, too. After a few years of trying various aspects like that, I came to the conclusion that the only thing that would work would to be tying my cock down.
Extreme Mens swimwear, fetish Lycra, spandex sex wear and cock displays and male chastity products.
I ran a strand of leather around the head of my cock and pulled it down between my balls. I thought that this form of male chastity would be perfect for what I needed. I would then run the strand of leather up my ass and wrap it around my waist, tying it off in the front. That's when I noticed that sitting down was a very difficult thing to do if I wasn't too careful. This type of chastity option was quite painful at times, and I always felt like I should have been wearing a skirt to go with it.
It wasn't until after I was in my second year at college that I had stumbled into an adult store and found a display that had chastity devices similar to the ones I have purchased from koalaswim.com. I asked about what they were and the clerk told me that you would place them over your cock and lock it so that you couldn't get an erection. I instantly knew that these chastity devices were what I needed to control my urges, and they worked out perfectly.
I knew that there were items out there that would help me with my chastity fetish but I didn't know where to find them or even what they were called. I grew up in a small town that didn't have any adult stores close by and the internet wasn't quite as popular as it has become over the last few years. All I knew was that there had to be something to these chastity devices that I was looking at in a display case in an adult store. So, I saved up some money and went ahead and bought one that I thought would work.
When I got home and tried it on for the first time, I couldn't believe how I felt. Just putting the male chastity device on made me feel better about myself. This is the same feeling I have had when putting on the devices from koalaswim.com, too. I knew that my long search was over with and that the chastity devices from the adult store were the exact items that I needed to get my erections under control. I felt like a kid at Christmas who already knew the presents that Santa had brought for him the night before.
Now, I had my new chastity device on and decided to go out on the town and see what would happen. Of course, I have learned a lot since then and I use the devices from koalaswim.com a bit differently, but my first one was new to me and I didn't know any better. I went out to a bar and thought I would see how this chastity device would work. I sat down in the back of the bar and waited to see if I was going to be able to get hard or not.
Now, you should understand that men and women turn me on immensely. It doesn't matter what sex they are. If I am not wearing one of my cock cage devices from koalaswim.com, I will immediately get as hard as a rock when just about anyone passes by me. So I sat there and watched the people walking by. It wasn't too long before I felt my cock starting to awaken within the chastity device I had bought. Then, there was an intense pressure as my cock was trying to force its way through the cage. I knew then that it was going to work.
I wasn't able to get a full erection because of my cock cage device and I was very pleased with myself. Of course, this device was nothing like the ones that I have purchased since then from koalaswim.com. The materials alone weren't even close to the quality that I have now. But I was happy that I didn't have to worry about getting an erection just because I saw someone walk by. I knew that my decision to purchase that first chastity device was the correct decision to make at that time.
Since then, I have purchased many different styles of male chastity devices over the years from koalaswim.com. I now own one of every device they have and I am always eager to purchase a new one when they show it on their website. I like to think of myself as a chastity device connoisseur because of the rather large collection that I have created. That may sound a bit odd to guys that simply use these devices as a toy for sexual pleasure, but I have a deep need to actually keep myself from becoming overly aroused in public.
I have since had a partner that has the same issues that I have. We both went to koalaswim.com together and purchased our men's chastity devices for the first time. Naturally, we purchased matching chastity cages so that we could have a little fun together with them. We tend to wear our cages the entire time we are out in public as we both tend to get erections at the most inopportune times. The good thing is that we know that we are wearing chastity devices and that means we can tease each other whenever we go out.
This one time I was walking around in my men's chastity device from koalaswim.com and kept asking certain people to walk by my partner for fun. It was aggravating him quite a bit because he didn't have his cage on and was staying rock hard underneath the table. I would, then, run my hand up his thigh and play with his hard cock through his pants. I know that isn't nice to do, but he should have worn his chastity device, too, and that wouldn't have happened to him. Of course, he got me back when we got home so we are even now.
There are a lot of guys that use a cock cage device from koalaswim.com just to explore the fetish of bondage. My partner and I tried bondage once and found that it wasn't to our likely all that much. In fact, we have tried all kinds of fetishes over the years in the hopes that we could find something that would satisfy our need to get an erection. The only thing I found that would work, besides my chastity cage, is his mouth and well, I can't walk around in my office with my partners mouth wrapped around my cock all day long, now can I?
I am sure that my partner would love to have my mouth as his penis cage device as well instead of spending money at koalaswim.com but that isn't going to happen, either. I would prefer to spend our money on things that we know are going to work and that is all there is to it. You just can't imagine what it is like to have to wear a chastity device all day long, though. While it can be exhilarating most of the time, it does tend to get uncomfortable to have to do it all day every day.
Just imagine if you had to wear duct tape on your eyebrows all day long for some reason. Ok, that isn't anything close to wearing a cock cage device from koalaswim.com, but you get the idea. Sometimes there are just too many things to worry about and the last thing you want to think of is what chastity cage you are going to wear for the day. You literally have to pick out the best one for the pants you are going to be wearing for that day.
When I wear slacks, I have to wear a male chastity device from koalaswim.com that puts my cock in a downward position. If it is a straight cage or cuff, then I tend to stick out everywhere I go and people are always looking at my crotch when I walk by. With tight jeans, I need to have a chastity device that is made out of leather or Spandex so that it doesn't look like I am smuggling small birds in my pants. These are the things that you need to consider when deciding to wear a chastity device during the day.
At night it isn't so bad. I can usually pick out whatever koalaswim.com men's chastity cage I want to wear and be done with it. But in the daylight people tend to notice things like that. In fact, I was almost fired for sexual harassment because a secretary thought I was being a pervert every time she walked by. I actually had to remove my pants to show my boss that I was wearing a chastity device to keep from getting an erection. Then, I had to explain the situation to the secretary and tell her that it wasn't an erection.
I almost thought I was going to have to show her my koalaswim.com device as well, but our boss said I didn't have to. He told her that he had seen the device and that everything I said was the truth. She blushed a bit but not quite as much as I did when I had to take my cock and cage out for my boss to keep my job. That is one time that wearing a chastity device almost got me into trouble unlike the numerous times I had gotten into trouble without wearing one.
There are plenty of reasons for guys to go to koalaswim.com and purchase a device. I just happen to have a reason that most other guys don't have to worry about. The constant erections that I get can be quite awkward at times, and they have gotten me in trouble, especially in high school. But now that I have great quality chastity devices to choose from through koalaswim.com, there is no reason why I can't have a normal and happy life. My partner understands as he suffers from the same thing, and I am hoping that other people will understand that needing a male chastity device doesn't have to mean you want a sexual experience. Sometimes it's just something to help you make it through the day.
Learning A Lesson Through Male Chastity
"Come on, Paul," I coaxed on the other side of the bedroom door. "Let me in, baby, so we can talk about this." Ok, NOW I was starting to sound more wheedling than coaxing but my partner, Paul, had been locked in our bedroom for over an hour. I didn't know it yet, but this was the beginning of my first experience ever with male chastity, and it was all my fault.
It all started the night before when Paul and I had decided to hit the new gay bar in town. We had both been so busy all week that we deserved a little down time together, and that's just what we were going to have. The night started out great with dinner in our favorite restaurant at a table overlooking the water. We had a some excellent wine with our food and just relaxed. Following this dinner is when we thought it would be a great idea to continue our evening at the new bar. With the quirky name of Bait 'n Switch, it got our attention. A lot of our friends had already been there and said it was awesome. These are friends that don't indulge in chastity, too.
Anyway, to make a long story short, the club WAS great! The music was kicking and the drinks weren't watered down. That was just the beginning. The eye candy was almost enough to make you cry. Seriously, there were some of the most beautiful men there I had ever seen in my life. The problem was that I had a bit too much drink and I can remember agreeing to dance with a few of those gorgeous men. I thought Paul was dancing with some guys, too, but the more I drank, the less I remember. The biggest mistake came when I apparently allowed one of the beautiful men to talk me into joining him in a bathroom stall. Paul started screaming about chastity when he caught me there, on my knees, with a very large and throbbing cock in my mouth.
I vaguely recall leaving with him and coming back home to our house. After that, things are kind of a blank because I woke up on the couch still wearing the clothes I had on the night before. The door to our bedroom was closed when I came to. Not only was it closed, but it was locked to me. I had been knocking on that door for the last hour but Paul refused to open it. He knew I was remorseful because of the way I kept begging and pleading with him. It also wasn't like I had ever cheated on him before because I hadn't. Yet, I know I heard him talking about male chastity over and over again all the way home.
After a few more minutes, I gave up temporarily and headed into the kitchen to start coffee brewing. I desperately needed a cup right now. While the coffee was brewing, I headed into our second bathroom where I splashed some cold water on my face and rinsed my mouth out. That helped take away some of the nasty leftover taste of stale Vodka. When I returned to the kitchen, there was enough coffee finished to pour one cup of coffee. I added some Stevia and cream to it, and then walked back to the bedroom door.
"Ok, Paul, please open the door and we can talk about chastity."
I waited until I heard the click of the door being unlocked. Even though the door didn't open, I figured that was all the invitation that I was going to get. So I slowly opened the door just in case Paul was lying in wait with a hard, blunt object. Instead, he was sitting on our king size bed looking intently at his laptop. I wasn't exactly sure what that meant but I ventured cautiously into the room.
"Paul, I can't tell you how bad I feel about what happened. I don't remember a lot of it, but I do know that I was being very horrible and that you had every right to start yelling at me about chastity."
"Come here," Paul replied. "I want to show you something."
Actually, I was a bit hesitant about approaching him because he suddenly seemed so calm about everything. He had really been so angry before that it was hardly reassuring that he would now be completely calm about the whole thing. So I kind of had a right to be slightly suspicious that he was hiding a weapon of some sort under the pillows or maybe even a male chastity device. He must have noticed my hesitation because he glanced up at me.
"Oh, for god's sake! Will you just come over here?" he said, sounding rather irritated.
I didn't want to take a chance on angering him again, so I scurried over to him and sat down. That's when he turned the laptop so that I could see what he was looking at. It was a bit difficult to tell what I was supposed to be viewing at first. Then, as I focused a little more, I saw that he was looking at koalaswim.com. I was familiar with this website because Paul and I both ordered items from there on occasion. The page he was looking at was a cock cage device. Uh oh, I thought.
It was called Cock Rage and it was a gold looking color. The description called it the "perfect tool" to use for chastity training. I thought it looked kind of scary. It came with a 1.75 inch cock ring, a full shaft tube and a metal cage end. This particular device also promised that it would take care of any erections and sexual urges that a man may have.
Tapping the monitor with his finger, Paul said, "Now you see, it says that it can TAME your sexual urges. What do you think about that penis cage device, Brad?"
I honestly had no clue as to what I should say to that because I truly didn't WANT anything of that kind entering into our relationship. In fact, that thing not only looked painful but also a bit frightening. So I kept my mouth shut. That only made Paul move to another page.
"Well, then, what about THIS one?" Paul asked.
I was almost afraid to look, but I couldn't actually keep ignoring him on this subject. This time I was looking at the Caged and Cuffed device. The Caged and Cuffed item was kind of interesting looking since it was in the shape of handcuffs around the penis. Oh, this chastity device was also different since it could adjust to fit the tiniest of cocks all the way up to the monster variety. From what I was reading about it, this baby would allow you to get erect partially, but the lack of stimulation would soon kick in so that the shaft burrows inside the comfort of the metal encasement. But you don't get any fun until your key holder lets you out.
However, I still had to think that these devices just didn't look like something I was going to love. Paul seemed to be waiting on a response from me about the chastity items that he had shown me but I still didn't know what to say. That's why it just seemed safer to not say anything. At least that's what I thought until Paul sighed and finally looked at me.
"I'm waiting for your input on this, Brad," he said. "But if you don't want to participate in the selection of your devices, then I'll just have to make the choices myself."
"Paul, please don't get all upset again! You know that I love you and that I would never cheat on you when I'm sober and in my right mind. There's really no need to go this far with things. Look, those male chastity things looked damned FRIGHTENING! I don't want to wear any of them!"
Paul looked at me for what seemed like a very long time without speaking. Finally, he closed his laptop. Then, without looking at me, he spoke.
"Fine. If that's the way you want it. I'll pack some of my things and be out of here within the hour. I'll collect the rest of my things when you're at work."
"Oh come ON, Paul! You can't be serious! Baby, we BELONG together! You know that! Are you seriously telling me that the only way we're going to work through this is by me wearing chastity devices?"
Paul studied his nails for a few seconds and then said, "Yes, that's exactly what I'm saying. If you really want to make things work between us after your abominable behavior last night, then you're going to need to show me that I can trust you. However, trusting you at this point in time means that you must be wearing something that will insure you won't be able to give into any temptations that you come across."
"Well, fuck," I swore. The last thing in the world I wanted was to be locked in one of those atrocious chastity devices, but I also loved Paul and would do anything to save our relationship. "If that's the only way to keep you with me, then ok. We'll do this chastity thing."
"Excellent!" Paul squealed and clapped his hands. Then he grabbed me in a huge bear hug, released me and whipped open his laptop again. "Now, help me choose one of these for you."
We finally settled on the Caged and Cuff chastity device from koalaswim.com. I was still very apprehensive about the entire exercise, but I wanted to be sure that Paul didn't leave me. Of course, in all honesty, I deserved to be punished. The male chastity device would definitely keep me "honest" and would keep Paul from worrying about what I might be up to when we were apart. So I caved willingly.
When the Caged and Cuff chastity device arrived within the next couple days, I found Paul waiting for me holding it when I got home from work. He was so excited as he showed it to me and how it would work. Then, suddenly his entire demeanor changed.
"Now, go take a shower," he ordered. "Then come back out here."
I went and took my shower and tried to make it last as long as possible. When I was finished, I presented myself to Paul, totally naked. He put the Caged and Cuffed cock cage device on me.
What can I say about the next few weeks? Paul took full advantage of his new position of power. He took me to places where I would have gorgeous men parading by me the entire time. This, of course, kept me semi-hard constantly and had me in the position of wishing for a release that I had not yet earned. But the worst of it came from Paul, himself. We would shower together, him totally naked and me in my chastity device. He would soap my entire body, knowing how much that turned me on.
Next, he would be lying naked on the bed when I came into the bedroom wearing my penis cage device. Then, while giving me some smoldering looks from under his half-closed eyelids, he would start to slowly stroke his cock. Something I may have left out is that Paul has an absolutely beautiful cock, and I wanted nothing more than to be having hot and sweaty sex with him. However, what I got to do was service him orally over and over again.
Finally, I was so horny I would almost cry when I looked at Paul stroking his erect tool. At the end of three weeks, Paul finally took pity on me. One of those nights when I entered the bedroom expecting it to be another night of service, he dangled the key of my male chastity device in front of me. I nearly wept with relief. Also, I have to say, that it was some of the hottest sex I've ever had in my life with anyone that Paul gave me that night.
I learned my lesson and Paul and I are fine now. I have to give a lot of credit for that to koalaswim.com and their chastity devices. We still pull it out now and again just to play and it never fails to rev up our sex lives.
Mens swimwear
He Wants to Try Male Chastity But You Don't
When it comes to male chastity, not everyone is on the same page, or even in the same ball park. This includes couples that have been together for a few weeks to many years. The problem comes in trying to reach a compromise in this area so that your relationship doesn't go down the drain. You should also be aware that the word "compromise" may mean different things to different people and this includes you and your partner.
Consider that your partner comes to you all excited about the idea of entering the world of men's chastity. At first, you may think that it's all a big joke and that your partner is simply having some fun with you. However, as you start to laugh heartily at the entire prospect, you see the hurt look on your partner's face and you realize that you've made a grave error. He's obviously quite serious about what he's talking about and here you've made a huge blunder by not taking it that way and worse yet, you've laughed at him! How will you ever climb out of this hole?
In case you haven't caught on yet, this is exactly what happened to me when my partner suddenly decided that he wanted to live a lifestyle of chastity. Now, please don't misunderstand me. I have no issues with anyone that wants to lead this type of life. I truly don't. I'm certainly not one to judge others and what they do in their relationships. My problem with the situation is that it wasn't something that my partner and I sat down together and discussed. We didn't talk it over and come to a decision together. No, that's not what happened at all.
In our situation, my partner- his name is Roland, by the way- simply walked into the living room one day and announced that we would now be practicingchastity. So, of course I thought he was simply joking around with me! He had never mentioned this to me before and it really did come out of left field. Why would I, for one second, believe that he was even remotely serious? The answer to that mind boggling question is: I wouldn't. Yet, there stood my very handsome and hot partner stating to me in a voice that I can only describe as majorly enthusiastic that this is the lifestyle he had decided he wanted us to live.
It didn't take me long to get my laughter under control once I realized the seriousness of this men's chastity situation, which is probably a good thing. Roland's face had started to resemble a thundercloud that was just about to burst. Since I now understood that he was definitely not kidding around, I told him to sit down so that we could talk. Then, I began by apologizing to him for laughing because I really wanted him to understand that it wasn't directed at him, but rather at what he had said. That was some crafty footwork on my part getting him to finally believe that I hadn't been making fun of him. I've been known to be a bit of a wordsmith, though, so I managed to convince him.
Making him see that men's chastity wasn't exactly up my alley was going to be another thing entirely, though. That became quite evident when he hauled out his laptop and went to a website called Koalaswim.com. It seems that Roland really had done his research on this topic; intense research. It was also at this point that I started to become nervous that I wouldn't be able to talk him out of it. That's one thing about Roland that you should probably know. Once he gets his sights set on something, he's like a dog with a bone. Now, that was fine when I was the one that he was setting his sights on, but I wasn't so sure about this chastity thing.
He was so excited about it all, though, that I had to look at the items he was showing me from Koalaswim.com. As we went through the various webpages of the site, I started to recognize some of the more erotic menswear. This had to be where Roland bought several of his sexy garments that he would secretly put on and surprise me with. I also noticed that a few of the specialty menswear items he had bought for me also had to have come from this site. But I was letting myself get distracted with the really hot menswear that the site sells. Roland wanted to show me thechastity items.
At first, I was a bit frightened by some of the things he was showing me. I mean, come on, what guy in his right mind would willingly agree to lock up his penis in a cage? Even worse, why would he, then, turn the key to the cage over to someone else and allow that person to decide when and if he got to enjoy any type of sexual pleasure? I was pretty baffled about the entire process. At first.
Then, I started to really pay attention to what I was seeing. If you've never been to Koalaswim.com, you simply must at least go and look at what they've got for sale there! Not only was I completely taken with the menswear items, but chastity products were also quite enticing. By that, I mean that these cages and various other items were actually quite beautiful. It was kind of like looking at specialty jewelry for your penis. Some of the cages were gold and shiny just like a beautiful bracelet or necklace. I was definitely intrigued.
Of course, the fact that I was beginning to be interested in some of these items sent Roland into overdrive. He immediately began to talk very fast and was throwing out all of this information regarding what sort of things he wanted us to do in the world of male chastity. I started to become somewhat alarmed once more. It was clear that he was deadly serious about this and, even though the items at Koalaswim.com were actually rather attractive, I still wasn't sold on the whole idea of having my penis locked into a cage and my pleasure restricted. No, I wasn't sold on that at all!
However, I did let him talk because I wanted to be fair and let him present his side of it. As he talked, I became more intrigued. My interest didn't come from being enthralled in the way that Roland was presenting his case, however. I knew in my own mind that if we were to start practicing chastity, that I was not going to be the one locked into a cage. If, and that was a rather large "if," I were to agree to at least try this out, Roland would be the one wearing the cage and I would be in the position of Key Holder. When I was thinking that, I had to be a bit proud of myself at already using the lingo associated with this type of lifestyle.
Still, I let Roland talk on until he seemed to feel that he had enlightened me all that he could about this topic. It was either that, or he had simply run out of steam. I have to say that male chastity had excited him in a way that I had seen few other things do. When he finally ended his, what I can only call, presentation, he sat back and waited for me to comment on what he had shared with me. I already knew that he wouldn't like what I was about to say, so I simply pretended to be thinking it all through. Actually, I was sort of thinking it all through, at least the part about what words I should use.
Finally, I took a deep breath and started to explain my thoughts on the matter of entering a lifestyle of chastity. I tried to be gentle as I thanked him for opening this door for me because I certainly would never have done so on my own. That much was true. As I talked, Roland started to look first relieved, then a bit smug as if he was sure he had won this particular battle. Who was I to tear apart his happy little world so quickly? So, that's why I continued on in that vein for a bit. When I paused to do more thinking about how I should phrase the next part of our conversation, Roland leaped in and asked me if we could order a couple of the cock cage devices right then.
This was going to be the tricky part, and I knew it. I began by saying that we certainly could order one or two of the chastity cages that day but there was something else that I needed to tell him first. That's when I explained that if we were going to explore this type of lifestyle, that he would be the one wearing the cage; not me. The role of Key Holder would be mine. As my words started to slowly sink in, I could see that this was not what Roland had been hoping for.
Male chastity was just something that I couldn't be involved with if I had to play the part of the submissive. It simply wasn't going to happen and I had to make sure that he understood what the rules would be if we were to do this. Clearly, that wasn't what he had in mind when he broached this subject with me. Apparently, he had set up in his mind this whole scenario of how he would lock my penis in a cage, keep the key and then tease me or order me about before I would be allowed any type of sexual release.
Yes, that was Roland's idea of a chastity lifestyle. Oddly, I had never seen this control freak side of him until then. We had always been rather more like equals in all aspects of our relationship. This new Roland had come out of left field. He began to explain why he had to be the Key Holder and how he was, clearly, the one that should be in charge. I let him talk but my own mind had been made up. In fact, now that I had started to think on it a bit, I was finding the whole concept of being a Key Holder to be a rather exciting one.
Sadly, Roland and I couldn't resolve our differences regarding chastity. We tried to go on as if nothing had happened but it became more and more apparent every day that he really wanted to delve into this lifestyle. His resentment toward me was building almost hourly and it got to the point where we could barely be in the same room with each other. We even started going out separately. It was after one of these Friday nights where we went out to different clubs that he came home and told me that he had met someone, and this new someone loved the idea of a lifestyle of chastity where Roland would be the one in charge and in the role of Key Holder. I was sorry to see him go, but wished him well in his new life. I even ran into him and his new partner while shopping one day and they both seem very happy together. Admittedly, there was a naughty little scenario playing itself out in my head where I was seeing the two of them each playing their roles.
It all turned out quite nicely in the end, though. You see, I also met someone. His name is Bruce and he loves wearing his male chastity cage. He can't imagine any other type of arrangement where I wasn't the Key Holder. The games we play are really quite a lot of fun, and I have to admit that we've ordered more than one chastity item from Koalaswim.com.
There is one difference with Bruce and me, however, that I'm not sure how many other couples actually do. We don't make this a full lifestyle. It's more of a role playing thing that we do to heighten our pleasure with each other. You see, there's nothing quite as exciting as knowing Bruce is wearing his cage all day long while thinking some very naughty thoughts regarding the two of us. Male chastity doesn't have to be fulltime, but we get rather serious about it when we do play. Sometimes, on the days Bruce is wearing his cage; I call and leave him some very sexy voice mails. After listening to those, he's really revved up and ready to go when he gets home.
Yes, this is the type of chastity lifestyle I prefer and it's working out just great!
See amazing
male chastity
cock cages at Koala link:
Mens swimwear
Finding your Male Chastity Trainer
There are times in my life when I wonder why I have been forced to live the lifestyle I have chosen to live. Then, there are times when I am so happy that I have chosen to live the lifestyle that I couldn't think of a better way of living. Any guy out there that is looking at trying something new out in his life should really take a few days to do some research on the chastity fetish lifestyle and see if it is something he think she could get along with.
If being a slave is something you think you could do, then you are going to want to find a Master or Mistress that is willing to train you. Now, this aspect of living the lifestyle of a chastity slave is going to be one of the more difficult things to accomplish. You aren't going to be able to just head down to your local convenience store and find someone sitting there willing to take you in as their slave. Not only that, but you would be an idiot to not question this complete stranger in order to make sure that they weren't going to chain you up in their basement and skin you alive.
There are plenty of sites online that you can check out in regards to the male chastity lifestyle, and that is probably the best way of finding your Mistress or Master. You might be lucky enough to live in a city that is big enough to have some fetish bars or clubs in your area and you can find someone that way as well, but most of the time they are already training slaves and don't have room for another one.
If you do find a Mistress or Master that is willing to train you, then you will need to make sure that the two of you get along well enough. There is nothing worse than having a Master or Mistress that doesn't get along with their slave and vice versa. In fact, I have had issues with a past Mistress because she would refuse to listen to me when I said my safety word. That is something that neither one of you should ever ignore for any reason whatsoever as it is the only way that you can stop being a slave and express the something that you don't like.
If you find your Mistress or Master online, then you are going to need to chat with them for a bit to find out what they will expect of you as a slave. If you talk to enough people, you will find that there are different aspects to this fetish that certain people may or may not like, and you have to find someone that is willing to train you in the things that you really want to experience. If you are lucky, then they will enjoy all the aspects that you do and have some new aspects that you will find intriguing as well.
The role of the male chastity slave is fairly simple, though. You are the one that is being locked up in the chastity device for as long as your Mistress or Master determines, and you are to do whatever they ask of you in order to please them so that you might enjoy a bit of freedom. If you do end up pleasing them, then there will be rewards that you can earn. On the other hand, if you do not please them, there will be punishments administered to you that will teach you not to do those things again.
After you have spoken to your future Mistress or Master online for a bit, you can ask for permission as the slave to call them. By asking permission, you are acknowledging that you are willing to be trained by them, and if they tell you that it is okay to call, they are letting you know that they are getting closer to allowing you to be trained by them. The beginning aspects of this relationship are filled with personality checks and minor role play aspects to help both of you better understand each other.
It isn't customary for a Mistress or Master to insist on anything at this point in time. A truly professional slave trainer will make sure that you aren't a freak as well as you making sure they aren't. Anyone that starts giving you commands right off the bat is either not a true Master or Mistress or has no idea what they are doing and is probably the first time they have ever spoken to anyone that is looking to be trained. This is something you will have to pay close attention to when dealing with people online.
Once clearance has been given for the male chastity slave to call the Mistress or Master, it is customary to do it right away. If you tell them you will call, and then it is days before you get the courage up to do it, they are going to be upset and won't be willing to train you. Granted, it could take you anywhere from a few days to a couple of weeks of talking to them online before they allow you to call them, so be prepared to wait it out until they are comfortable with you.
There are a few services out there that you can call and be given details on how to contact a Mistress or Master right away to start your slave training, but the most reputable services are going to cost you a decent chunk of money, and there is usually no sex play involved at all. Because of this, a personal relationship has to be built up between two people that are willing to enjoy this lifestyle fetish together. Just remember to be patient and don't start giving demands or you won't be happy with the results.
After the slave and the Mistress or Master have spoken on the phone for however long it takes to get to know each other, the invitation will be made by the Mistress or Master for you to meet them. Now, this meeting will be in a public space and you aren't going to be starting your training at that time unless they have specifically told you that it will happen. Usually, it is a meeting to see each other face to face and discuss in more detail what it is the two of you are looking for.
A true slave is willing to go through all of this in order to find the right person to train them. As a slave, you don't want to be randomly abused for no apparent reason and you want to experience certain aspects of this fetish in a way that is comfortable for you. The Mistress or Master you are being trained by has the same expectations that you do and that is why you need to take the meeting aspect to heart. Never rush right into anything that you aren't comfortable being a part of.
Once you have met for the first time and the okay has been given for you to be trained by them as a male chastity slave, then the meeting times will be decided. Now, there are some people out there that will be willing to have you move in with them and become a full time slave, but those people are few and far between, and it requires a bit more than just a few phone conversations. Your meeting times will be discussed between the two of you to make sure that you can both meet them and that there are no complications.
Your first slave training session is going to be one that will allow you to fully understand what your Mistress or Master is going to expect from you, and what you can expect from them as well. You probably aren't going to be getting down to anything deep until a few meetings have gone by, but your first meeting is one of the most important ones and will set the tone for how the rest of your training is going to go. Just make sure that you are ready to follow the directions that they give you and everything should work out smoothly.
If there are certain things in regards to being a chastity slave that you want to experience or certain things that you don't want to experience, then that first meeting is a good place to go over them. You will also set your safety word or phrase that you will speak when things become too much for you to handle or something is asked of you that you will not do. If you have gone over the things that you don't want to do with them, then they won't ask you to do them.
Being a slave can be quite entertaining for both the slave and the Mistress or Master that is training them as I have found out on numerous occasions. But you should never feel that you are free to find other trainers unless you have been gives explicit instruction from your current trainer to be able to. That is when your punishments can become quite harsh since Mistresses and Masters do not enjoy sharing their slaves with other people. This is something that a beginning slave really needs to pay attention to.
Once your relationship with your Mistress or Master becomes stronger, then the chastity slave can ask for special permissions, and if they have pleased their trainer, then they will most likely be granted. The most common permission that I have asked for is that I don't have to wear my chastity device while I am working. Since I am a professional plumber, it is a bit difficult to wear a device like this while I am working, especially when you have to crawl under a home on your stomach to fix a leaking pipe. It did take almost six months before that permission was granted to me, though.
Over all I have to say that being a chastity slave has been a high light in my life. I deal with a lot of people while I am working and I always have to be in control of what I am doing and as professional as possible. By being a slave to my Mistress, I have the ability to give up all of that control and actually let myself be controlled by someone else. My Mistress and I have been together for a few years now and there is no one out there I would rather be a slave to.
If you are lucky enough to find a slave trainer like I have, then you are going to be very happy that you decided to choose this lifestyle to enjoy. Granted, it took me almost ten years and five other Mistresses before I found the one that I am with now, but each one of them gave me a learning experience that I wouldn't trade for anything. Sometimes you have to go through some bad experiences in order to find the good experiences that you have been looking for all of your life. The Mistress I have now allows me to visit Koalaswim.com and select some of my chastity devices. She has to approve them but she always does because she likes this site, too when it comes to chastity items.
If you are interested in becoming a chastity slave to someone, you have to take it as seriously as your Mistress or Master takes it or you are not going to enjoy it. This isn't a lifestyle that you can just pick up one day and jump into. You have to be willing to do a lot of things that you might not think you would ever actually have to do, like cleaning bathrooms with a toothbrush or being used as a foot stool for two hours. Some of the things you are going to be told to do might go against your basic judgment, but if you do them and you get rewarded, then there is nothing out there that you might not do in order to feel that kind of pleasure again.

Male chastity penis stretcher by koalaswim.com mens swimwear, male chastity products, fetish spandex, Lycra sex wear, cock display wear, anal wear, male to female transformation designs and so much more!